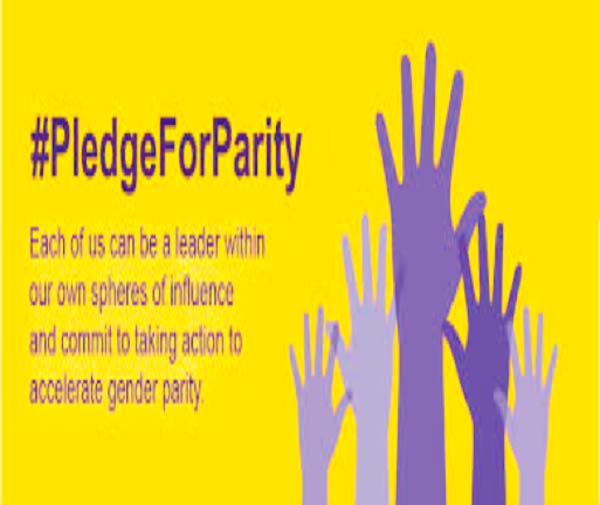 International Women's Day 2016 - let's pledge for parity for it is a right, not a privilege. "Each of us can be a leader within our own spheres of influence and commit to taking action to accelerate gender parity."
In the morning of 8 March 2016, the Gambian environment was painted white by women across the country.
On my way to work, I met up with many women dressed in white mixed with lovely colours, and I said to myself - Why not?
It is, indeed, their day, a day to celebrate the joys of womanhood, recall their suffering, and discuss the way forward.
But then again, I asked myself - how many of these women see this day beyond marching, singing, clapping and dancing?
How many of them will be given the platform to express their views, vomit out their sufferings and hold the relevant authorities to account?
As we celebrate this day, it is important for us to address the hardships women are facing in The Gambia, and find urgent solutions to it.
According to the UN Women website, the 2016 theme for International Women's Day is: "Planet 50-50 by 2030: Step It Up for Gender Equality", while the campaign theme is: "Pledge for Parity."
The United Nations observance on 8 March will reflect on how to accelerate the 2030 Agenda, building momentum for the effective implementation of the new Sustainable Development Goals.
It will equally focus on new commitments under UN Women's Step It Up initiative, and other existing commitments on gender equality, women's empowerment and women's human rights.
This year's International Women's Day celebration is unique as we as a nation are preparing for the presidential election, parliamentary as well as the local government elections.
The Gambia as a nation should pledge for parity in the coming presidential election. All we see is political parties calling women and asking them to nominate them as their flagbearers. The question is - when will The Gambia have a female flagbearer?
When will women be given the chance to take their own decisions without decisions being imposed on them?
We are celebrating International Women's Day when there are women who do not attend the celebration, because they are discriminated based on their political status, when in fact every Gambian has the right to association guaranteed by section 25 of the 1997 Constitution.
It states that "every person has the right to freedom of association, which shall include freedom to form and join associations and unions, including political parties and trade unions."
Women are scared of attending political rallies and putting on their party's T-shirts, because they are discriminated and stereotyped by their fellow women and some men.
Section 8 of the Women's Act states: "Every woman is entitled to freedom of expression including freedom to hold opinions, and to receive and impart ideas and information without interference."
That being the case, women should be given the platform in their various political parties to express what is really in them, and what they are going through; not for them to just serve as praise singers, even while they are bleeding to death.
Section 9 subsections 1 of the Women's Act states: "A woman shall not be made to suffer any discrimination by reason only that she is a woman"; yet women are discriminated, stereotyped and abused on a daily basis because they belong to a particular political party.
Women are made to suffer discrimination when they vie for election, just because they are women. Let's pledge for parity, and hold the perpetrators to book because they offend the above section of the Women's Act.
It is time for us, as a nation, to see every day as Women's Day, and give them their due. Many a time people will say women are "equal partners" and they keep on singing it, but never put it into action.
Why are we beating about the bush? Why women should still be behind men and not beside them, when it comes occupying decision making positions in the government sectors.
Women are suffering a lot in their various working departments. Some women are forced to work for years without giving birth, because employers are running away from the six months maternity leave.
Every day, when one is passing by at the Pipeline Mosque, there are women sitting down with their children and grandchildren begging for food; and for them they live in a different world where they have no one, but themselves.
It is only a female leader that can understand their pain and suffering. They don't even know that there is a day set aside for them, because they are never included.
If a woman can give birth to a president, ministers, scientists and world leaders, a woman can equally be a president. Women are the movers and shakers of every political party in The Gambia.
Women do the mobilisation of funds, cook, sing, clap and dance and they are powerful speakers that can touch the hearts of anyone who cares to listen. Why can't they be given space when it comes to leadership? Gender parity is the answer!
The world has gone past the issue of negotiating for equality between men and women when it comes to development, particularly that of a nation.
Women are tired of hearing the word "empowerment". The garden woman wants tools, fertilizers that will ease her work and put food on her table. The educated women want to work side by side equally with men in decision-making positions.
Even the grassroots women want their fellow women to represent them in the National Assembly, so that their pains can be taken care of.
Women want equal representation at the government level and all sectors of development. Women need markets to sell their products.
As we celebrate International Women's Day, we hope that all the political parties will have women side by side as their running mates, and not their praise singers.
We hope that something good will be done for those women sitting every day at the Pipeline Mosque begging.
We hoped to see more women in the National Assembly as elected members, and not nominees. We call on the law enforcement authorities to enforce the Women's Act to the letter, so as to end all forms of violence and discrimination against women and girls.
We hope that every woman in The Gambia will be given the chance to show her political status, and allowed in exercising her right to join any political party of her choice without any discrimination. We call on women to vie for political position, particularly the presidential position.
We equally celebrate the joys of womanhood. We salute all women that wake up early in the morning, rush to the market and sell something just to feed their families.
We celebrate women who are into fashion and sewing beautiful African dresses. We celebrate women who serve as role models for young girls in the country. We celebrate all the rural women and girls who spend the entire lives on the farm, just to feed their families.
We urged women to desist from women-to-women violence, and support any woman who is contesting for political position irrespective of her party.
We equally celebrate and acknowledge the efforts of some men who stood side by side with women in empowering them, and ending violence and discrimination against them. We celebrate every man out there who does not batter his wife and treats and respects her as a companion, and not a property.
We celebrate the entire women journalist in the country and all the women editors-in-chief, managers of radio stations, as well as the young female activists serving the interest of women and girls in making sure that we live in a world free from discrimination, violence, abuse and torture.
We stand in solidarity with women survivors of rape, and call on the world leaders to execute all perpetrators convicted of rape and compensate the survivors.
As a woman, do not let a man or politics come between you and your fellow woman, break the political barriers, speak out and advocate for parity so that together we can choose a female flagbearer for The Gambia, our homeland.
Join the Campaign today and Pledge for Parity now for Sustainable Development. 
Read Other Articles In Article (Archive)