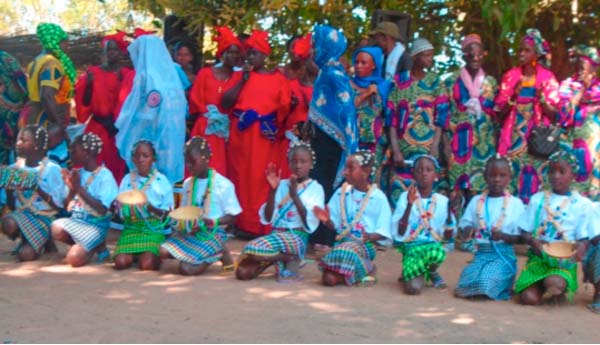 Neneh Touray, assistant communication officer at the Women's Bureau, has said Female Genital Cutting (FGC), early and forced marriages are key factors that retard the socio-economic development of women.
Madam Touray made this remark on behalf of the Executive Director of Women Bureau while presiding over a mini-declaration held at Mankamang Kunda where 22 communities openly and voluntarily declared abandonment of FGC, early and forced marriage in the region.
She said that any form of gender-based violence such as wife beating, early and forced marriage is unacceptable, because if a child is let to marry at an early age when her physical and mental ability is not fit for that marital house, it creates more problems and complications to the child instead of bringing joy and peace in that family.
She commended Tostan for engaging, educating and empowering the local communities to lead the developmental process to voluntarily declare the abandonment of Female Genital Cutting (FGC), forced and early marriages in the interest of their wellbeing and for generations to come, without any reservation.
She added that Women's Bureau and the Ministry of Women's Affairs "are happy about the great achievements" realised by Tostan through support from UNICEF and the Government of The Gambia.
"The Women's Bureau is very thankful to President Jammeh for banning FGM practice in The Gambia and not only that, but to also enact a law as part of the Women's Amendment Act on 14 November 2015," she said.
Fines are levied on anyone found violating the law, she said, adding that defaulters would be fined D50,000 or face a jail term of 3 years or both, and a fine of D10,000 for concealing the act, she added.
The statistics had revealed that many communities would openly declare the dropping of the knives only to secretly practise the act, which is not good, according to her.
She used the opportunity to call on circumcisers to adhere to their words, saying they were not forced to declare the stop of the act but they voluntarily and openly declared and showed remorse for what they had been doing, thanks to Tostan-UNICEF Community Empowerment Programme which had lit the way for the communities to see for themselves and take charge of their own social transformation. This, she noted, led to the declarations in the region.
She highlighted some of the negative impacts of FGM/C and early and forced marriage, including delay in child birth and fistula, which is very expensive to treat and manage.
She said those who suffer from fistula are often stigmatised or discarded in society.
Maimuna Baldeh, coordinator of community management committee, hailed Tostan for their timely intervention in empowering the communities to take charge of their destiny and rightful position to bring about social and sustainable development in the Upper River Region.
For her part, Kaddy Jammeh, representing the women councillor of the area, commended the communities for their voluntary and open declaration of the abandonment of FGC and early/forced marriage in their various districts. This, she said, is a welcome move but was quick to advise them to adhere to their words.
According to her, research had revealed that FGC, early and forced marriage are high in URR, warranting Tostan, the Government of The Gambia through UNICEF support for the past years, to engage the local communities by taking them through series of programmes and activities including sensitisation to build their understanding on the menace caused by FGC, early and forced marriage, which affect their social and economic advancement in society.
Read Other Articles In Article (Archive)