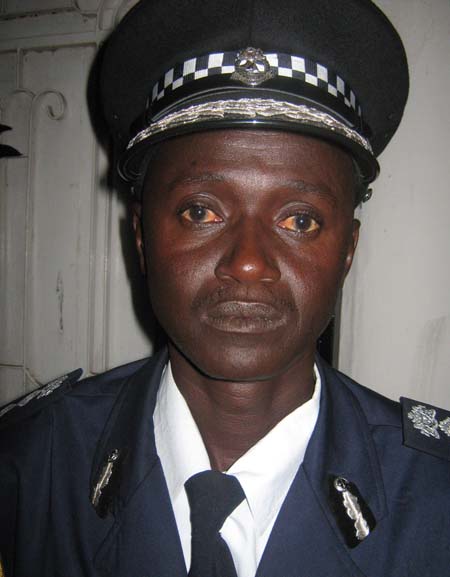 The robbery trial involving former Inspector General of Police, Ensa Badjie and Chief Superintendent of Prison Ali Ceesay, is expected to resume before Justice Ikpala at the Special Criminal Court in Banjul today Monday 19th July 2010, when the prosecution is expected to call its fifth witness to testify.
The duo are standing trial on different charges, ranging from conspiracy to commit a felony, robbery with violence, receiving stolen property, aiding and abetting, robbery, conspiracy to commit misdemeanour, aiding prisoners to escape, official corruption, conspiracy to defeat justice and interference with witnesses, deceiving witnesses, offences relating to judicial proceeding, and using criminal charms, among others.
Readers would recall that during the previous sittings, the prosecution had called in several witnesses to testify, including one Soriba Condeh, a convict serving a jail term at Mile 2 prison, Pateh Jallow, the former deputy chief of the National Drug Enforcement Agency (NDEA), Muhammed Sillah, a police officer, and the lastest to testify, Muhammed Darboe, also a convict at Mile 2.
Tamba & Fofana Treason Trial
The trial involving ex military chiefs, Lt. General Lang Tombong Tamba and Chief of Naval Staff, Rear Admiral Sajor Fofana, both of whom were indicted on four-counts of treasonable charges at the Special Criminal Court in Banjul has been pushed to 27 July 2010 for hearing.
They were specifically charged with conspiracy to commit treason, concealment of treason and treason, and both pleaded not guilty.
The case was last Monday adjourned, thanks to the late arrival of the 2nd accused person, Sajor Fofana, to court.
Lt. General Tamba, who was sentenced to death for treasonable offences on 15th July, was on the same day rushed to the Special Criminal Court where he is facing other treasonable offences, in connection with 21st March 2006 abortive coup attempt.
Lt. General Tamba claimed to have foiled the 2006 coup with some loyal officers and soldiers, and Fofana was the President of the General Court Martial that jailed the soldiers and officers convicted for being involved in the attempted coup.
Read Other Articles In Article (Archive)