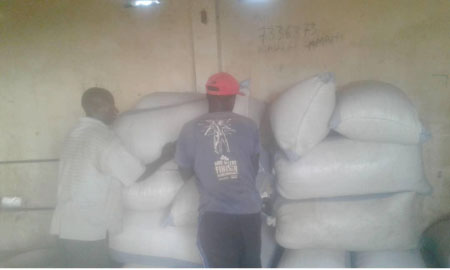 A good number of farmers in the Central River Region said they will not sell their bags of groundnut less than a bag of rice this year, blaming the government of considering their plight and difficulty in farming.

They said they have been working hard to survive and contribute towards national development but their plight has not been given much consideration by the government as it always buys their produce at a low price.
Speaking to The Point CRR correspondent in a recent interview, the farmers said this year, government is buying per kilo of groundnut for 18 dalasis and 18, 000 dalasis per tonne, while local dealers are buying per kilo for 25 dalasis and 25, 000 dalasis per tonne.
"The government is buying a bag of groundnut less than 1, 200 dalasis when the local dealers are buying it at 1, 500 dalasis," one of them said.
Wassu secco used to buy more than 40 tonnes of groundnut a day but this year, one week since the opening of the sales, less than 7 tonnes have been bought while the depot at Kuntaur remained empty.
Tombong Touray, a farmer from Jarumeh Kuta was found with 16 bags of groundnuts at the Wassu secco but he refused to sell them after knowing that the government was buying less than the price that local dealers offer. "I will rather return with my bags of groundnuts home than sell them less than 1, 500 dalasis," Mr Touray said.
He said although he paid a tractor to transport the bags of groundnuts to the secco because he wanted to sell them to the government as a citizen but he will never sell them at lower price.
The farmers noted that this year's rainy season was not as good as expected, saying they will not sell their meagre harvest at lower price to buy bags of rice at high price.
According to them, all the farmers are selling their groundnuts to the local dealers who will resell them in Senegal which will boost the Senegalese economy, saying if the government fail to increase the buying price, they will not sell their groundnut produce to them which will not be good for the country's economy.
Read Other Articles In Article (Archive)