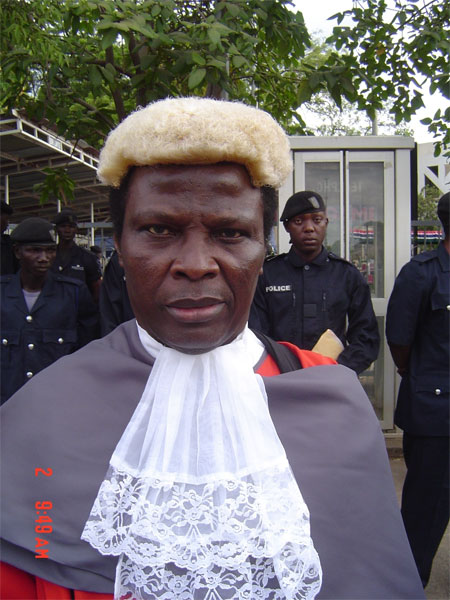 Seven legal practitioners, four females and three males, have been formally enrolled to the Gambian Bar at a ceremony held last Friday at the Law Court Complex in
Banjul
.
The seven are Ramatoulie Jawara, Anna Njie, Pa Harry Jammeh, Lamin George, Hajum Gaye, Nyima Isata Jawara and Ebrima Jah. All took the oath administered by the Chief Justice of The Gambia Abdou Karim Savage.
Speaking at the ceremony, Lawyer Amie Bensouda, President of the Gambia Association welcomed the new entrants to the bar and added that the new entrants will reduce the shortage of manpower in the legal system.
She said there is a code of conduct in the legal system, which needs to be followed. She said misleading a court is very serious misconduct, which can lead to disciplinary action.
Lawyer Bensouda further advised the new entrants that while conducting their duty on behalf of their clients they should not mislead the court or their colleagues.
She said as lawyers they should not think like their clients, but they should represent their clients to the best of their ability andwithin the law.
She finally assured the new entrants that they would give them full support when it is required.
For his part, the Gambia Chief Justice Abdou Karim Savage also advised the new entrants that they have a duty to their colleagues especially to the seniors and urged them to always consult their seniors for legal advice. CJ equally urged the senior legal counsel to always assist the junior ones when required.
He said when going to the court they should go with the right attitude and if they face any difficulty in court they should ask for an adjournment to go and advise themselves.
CJ further stated that as legal practitioners they should tell their clients the truth and always advise them according to the law.
He also advised them that they should not disappoint their parents or relatives and to work hard, as their duty starts the day they were called to the bar and that the struggle is a continuous process.
The registrar and Master of the High Court, Mrs Amina Saho-Ceesay, chaired the ceremony.
Read Other Articles In Article (Archive)