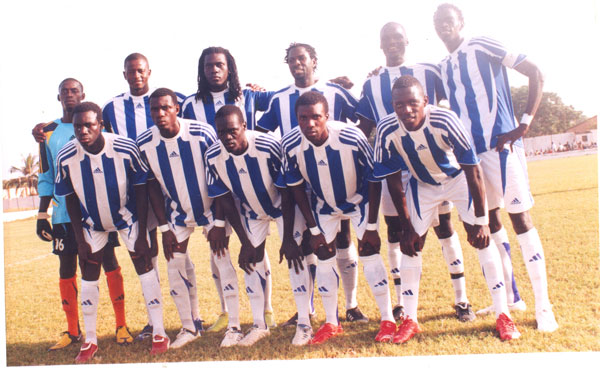 The executive committee of the Gambia Football Association has declared Serrekunda East as the winner of the second edition of the Muhammed Yahya Jammeh Perpetual Cup Championship for 2009, in a press release sent to Pointsport on Wednesday.
This came in the wake of a controversial zonal championship final which ended in a heavy fight between the two sides, at the Serrekunda West Mini-stadium on the 13th December 2009.
After months of investigation into the zonal final chaos, the Gambia Football Association decided to set up a special task force committee, tasked with the responsibility of investigating, as well as postmortem on the behaviour of the team officials, players and supporters.
As such, the executive committee has decided to impose the under-mentioned disciplinary measures to engender sanity in sport.
Bakau who won last year's zonal competition is suspended from all GFA zonal competitions for one (1) year and all the registered players from the Bakau zone, the released added, shall not be allowed to participate in any other zone for the entire duration of the aforesaid suspension.
Meanwhile, four players who were under heavy criticism for their role in the abandonment of the final were fined as listed below.
Buba Jallow (Meless) was fined for D5000 (five thousand dalasis) after he was accused of putting or taking out what looks like a Juju in his opponent?s goal post.
Assan Jatta who had his own share of the incident when he was seen running towards Buba Jallow, alongside some of his team mates was fined for D2000, while two other players from Bakau team in the names of Demba Sanyang and Lamin Jallow were subsequently fined for D2000 each for their role in the matter.
The Serrekunda East can now boost of adding another zonal championship title to their names.
As a result, they will receive the trophy and a cash prize of D50, 000. It is also reported that the runners-up position has been nullified and the cash prize will be added to the monies to be distributed to all other participating zones as a consolation prize.
It is also revealed that the Gambia Football Association has with immediate effect dissolved the organising committee for the Baby Muhammed Jammeh Perpetual Cup Competition.
Read Other Articles In Article (Archive)