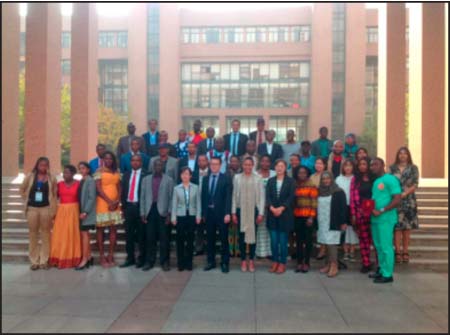 More than 35 African participants of the seminar on News Media for African Countries and African Union were last Monday certified at a closing event held at Zhejiang Normal University (ZJNU), Jinhua, China.

The seminar was organised by Zhejiang Normal University under the auspices of the Chinese Ministry of Commerce.
The three week seminar exposed participants to Chinese TV and Cultural Communication; Current Situation of China's New Media and Communication and Identity Building in Africa, Chinese reform programmes and openings among others.
"With the advent of new technology, the news media has become something of reality that we all must face," said Xu Lihua, the director of International Communication, Zhejiang Normal University, at the handing over of certificates to participants.
She expressed optimism that participants would serve as agents to inspire and share what they have learned during the seminar.
"Civilization is advancing thanks to communication," she said. "I believe, with our exchanges, China-African collaboration will go from strength to strength."
According to Laura Harirola Rakotonandrasana, a participant from the African Union, the seminar has been anything but success.
She lavished praises on the Zhejiang Normal University for organising what she called 'first-class' procedure that has built knowledge in communication, journalism and culture throughout the seminar.
She also acknowledged that the seminar was designed to share wide range of cooperation and thus enrich the experiences of the participants about Chinese media and culture.
Liu Xiumin of Zhejiang Normal University, who spoke in relation to outside classroom experiences, said he believed that outside lecture is the best practice of learning, pointing out that the seminar was meant to propel and strengthen people's communication.
Read Other Articles In Article (Archive)