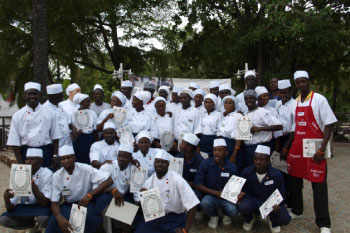 Senior staff from the Senegambia Beach Hotel and other hotels in the country on Wednesday received their certificates after completing a hospitality training by Insight Benelux and Mise EN Place in Holland.
The closing ceremony was garnished with a high profile dinner and musical entertainment.
Delivering his official closing remarks, Senegambia Beach Hotel General Manager Bunama Njie, alias Buna, thanked all those who attended the ceremony, particularly the Minister of Tourism and Culture, who was accompanied by senior officials from her ministry.
He also thanked Insight Benelux and Mise En Place from Holland headed by Elma Nissen, who was the brainchild of the training programme.
The general manager said the training was designed to not only enhance the skills of participants on certain operational procedures, but also to focus on key variables such as customer care, personal hygiene and basic hospitality.
"This interactive training programme has been conceived and executed by the management of the Senegambia Beach Hotel to complement the efforts of the Ministry of Tourism and Culture and the Gambia Tourism Board in their bid to mainstream quality service delivery in the hospitality industry," said Mr Njie.
"We are very convinced that this training can lead to improved service delivery, which in turn could greatly impact on guest satisfaction levels in this hotel and the hospitality industry as a whole."
Fatou Mass Jobe-Njie, Minister of Tourism and Culture, in her remarks, said all tourism establishments, including hotels, need trained staff in order to execute their services delivery system effectively and efficiently.
Capacity building, according to the minister, should therefore be a regular feature in the work plans of hotels.
"I am extremely delighted that the Management of the Senegambia Beach Hotel has the commitment to deliver quality services to its customers by ensuring that all categories of their staff receive the training they need to perform their varied tasks in a professional and qualitatively efficient manner," Mrs Mas Jobe-Njie said.
"My ministry, and indeed the Gambia Tourism Board, places great emphasis on quality service delivery that is commensurate with acceptable international standards.
"This, however, cannot be attained without investing in the training of service personnel and indeed including in the overall tourism development strategy, as well thought out capacity building programme that cuts across the broad spectrum of the tourism workforce."
Read Other Articles In Article (Archive)