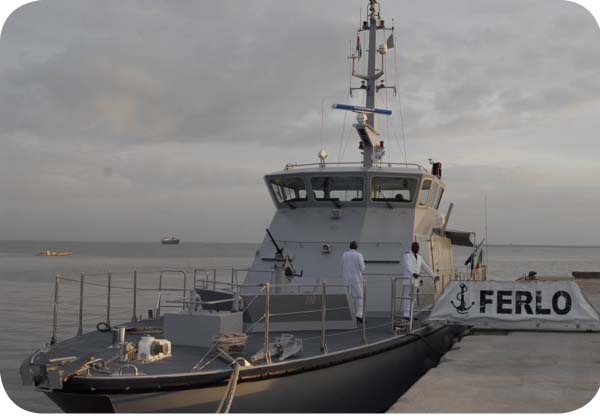 A Senegalese Navy vessel docked at Banjul port is on a mission to strengthen the bilateral relationship, through reinforcing military cooperation. The vessel was built in France, sources revealed.
The visit comes within the context of the two states' desire to take control of and enhance security in their territorial waters and to protect their water resources.
Consequently, as part of the mission, naval staff of the two countries were scheduled to hold a meeting on reinforcing military cooperation, which would be followed by a joint military patrol in the sea, before the end of the mission.
Speaking at a reception held at Banjul seaport on Tuesday, Commodore Madani Senghore, commander of the Gambia Navy, spoke of the significance of their Senegalese counterpart's mission, adding that maritime security has come to the forefront.
Crimes such as drug trafficking, piracy and illegal fishing happen in the maritime domain, and are not restricted to one country's maritime borders, he said.
The Senegalese High Commissioner to The Gambia, Ababacarr Diagne, described the two navies' cooperation as a new phase in the two states' defence and security ties.
The armed forces of the two nations have in the past two months held discussions on key security areas, and had noted the need for greater cooperation and collaboration, which is significant, Diagne added.
The Gambia and Senegal are members of the sub-regional fisheries commission, and have embarked on combined maritime security patrols before.
Thus, it is important for them to forge closer bilateral ties in this regard, High Commissioner Diagne went on.
He added that Senegal cannot have a fully-secured maritime space, without the collaboration of The Gambia.
Captain Assan Seye, commanding officer of FERLO, the Senegalese navy vessel, described the two nations as the same people with two governments.
Senegal and the Gambia have the same seas and if Gambian waters are safe and Senegalese waters are not, then both have nothing safe, Captain Seye declared.
Therefore, there is a need to ensure the safety of the two states' waters for the benefit of the two nations, he added.
Colonel Ada Koundoul, military attache at the Senegalese High Commission in Banjul, thanked the Gambian authorities for facilitating the mission.
Read Other Articles In Article (Archive)