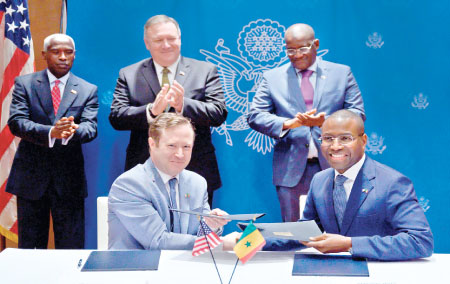 The U.S. secretary of state Mike Pompeo is on an official visit to Senegal accompanied by the minister of Economy, Planning and Cooperation. Mr. Pompeo opened his agenda with a round table with members of the Senegalese and American private sectors, with a round table that closed with the signing of five memoranda of understanding.

"We have just signed memorandum of understanding between American companies, agencies and state-owned companies as well as the government of Senegal for the financing, development and execution of different projects in several sectors," said the minister, Amadou Hott.
For the energy sector, the director general of Senelec initialed an agreement with the American GE. Among the agreements include the development of a new 300 MW power plant. An agreement was signed with Weldy Lamont as part of an access to electrification project.
Fonsis initialed a memorandum of understanding with GE for a project to raise the medical plateau in our hospitals, while the Ministry of Economy, Cooperation and Planning has also signed an agreement with ABD Group. The objectives included the development of social infrastructure such as social housing.
"What we also discussed with the secretary of state is to push American companies, which produce in other countries, to relocate to Senegal, to produce from Senegal and to export, to serve the Senegalese market. And all this in partnership with the national private sector," he adds.
For his part, the American secretary of state, Mike Pompeo declared that the signing of those agreements remains a very important stage of the trip to Senegal.
"It is important to talk about the private sector, because it is the private sector that is the engine of economic growth. It is important for the USA and for the Senegalese people. Not only will this bring value to Senegal, it will also be positive for these American companies," said Mike Pompeo.
Author: Seneweb News - Seneweb.com
Read Other Articles In Article (Archive)