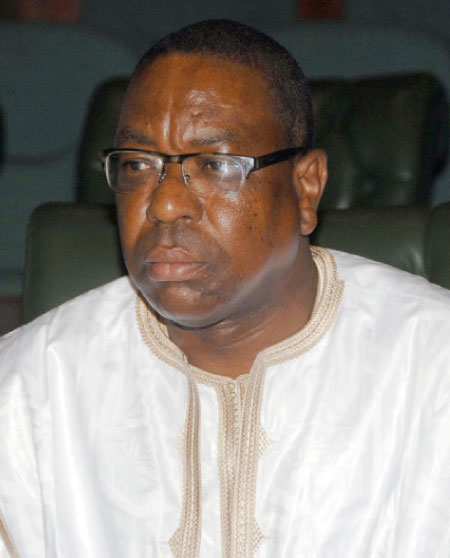 A special envoy of Senegalese President Macky Sall yesterday held talks with President Yahya Jammeh at State House in a bid to further strengthen the relationship between Banjul and Dakar.
Mankeur Ndiaye, Senegalese Minister of Foreign Affairs, was in Banjul to deliver a special message from President Macky Sall of Senegal to his Gambian counterpart on ways and means of further boosting the ties between the two leaders and their respective countries.
Ndiaye told waiting journalists after a closed-door meeting with President Jammeh that his discussion with President Jammeh also centered on the role being played by the Gambian leader in collaboration with Senegal towards bringing lasting peace in the Senegalese province of Casamance.
'The objective of the message is to further strengthen the bilateral relationship between Banjul and Dakar, the friendship between President Macky Sall and President Jammeh for them to collaborate on a daily basis to strengthen the relationship,' Ndiaye said.
He told journalists that he had a very lengthy discussion with President Jammeh and his ministers all centered on ways and means of further strengthening the relations between the two countries.
According to him, the relations between the Gambia and Senegal is not a question about security, but development as well, noting that as always stated by the two Presidents, Gambia and Senegal is one population with two governments.
'We also discussed about strengthening the economic, cultural, and commercial cooperation between the two countries,' he said, while revealing that there are plans to have a joint commission meeting between Banjul and Dakar in June in Banjul to look at the cooperation between the two states.
'We also discussed about the excellent role played President Jammeh in collaboration with Senegal to bring lasting peace in Casamance as soon as possible,' Ndiaye further told journalists.
'President Macky Sall is commending President Jammeh for his stance in that regard on behalf of the Senegalese population,' he said, while calling on President Jammeh to further assist in bringing a lasting solution to the situation in Casamance.
'President Macky Sall has also extended his gratitude to President Jammeh for the warm welcome he accorded the new Senegalese High Commissioner to The Gambia, and for allowing him to visit Senegalese nationals in prison,' he said.
The Senegalese envoy also lauded President Jammeh for allocating a plot of land to Senegal for the construction of a residence for its High Commissioner to The Gambia.
Noting that President Macky Sall paid his first official visit as President to The Gambia, the Senegalese envoy said he has also extended a special invitation from President Macky Sall to President Jammeh to visit Senegal, which, he said, has been accepted by President Jammeh.
Diplomatically, he went on, they will hold discussions to see when and in what ways the visit will take place.
Read Other Articles In Article (Archive)