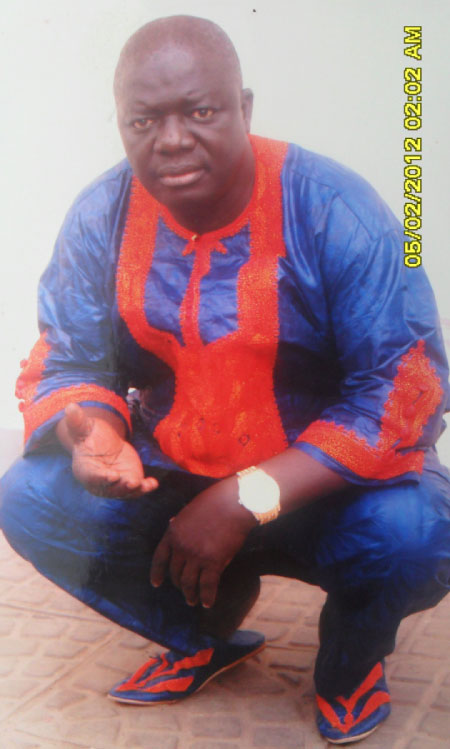 Hello and a warm welcome to yet another amusing edition of Personality of the Week, your weekly column aimed at bringing prominent Gambian achievers into the limelight after a long break. This column, as we stated in our previous editions, has and will continue to bring you profiles of the giants in today's Gambia. In today's edition, we bring you the profile of a man who needs no introduction in today's Gambia. He is a successful man, an erudite musician who is today one of the most respected citizens in Gambian society. He is the famous Jaliba Kuyateh. He began his journey into the music world from scratch climbing through the ladder, which has undoubtedly toughened him for life.
Born in the village of Niamina Dankunku in the Central River Region in 1957, Jaliba Kuyateh, son of a great kora player called Kebba Sunkung Kuyateh, started learning kora from his late father at a very early age.
His mother, the late Aja Bakoto Mbye, also contributed immensely towards the development of Jaliba Kuyateh, this great musician of our times. Jaliba Kuyateh's grandfather, Wandifeng Jali, was the best kora player of his time.
The Kuyatehs are respected members of the griot family, the custodians of oral history in our communities, and Jaliba Kuyateh was taught by his father Kebba Sunkung Kuyateh the art of playing kora.
His punishment for misbehaving as a small boy was to spend an evening playing the kora alone, and he was well-groomed by his father and today he is The Gambia's most popular kora player, who has turned the kora music of Gambia into a very modern sound that he calls kora pop.
Jaliba Kuyateh received his primary education at Dankunku primary school in region five of the Central River Region (CRR) and Pakalinding primary school from 1964 to 1970 in Lower River Region (LRR). He continued with his secondary education at Crab Island secondary school in Banjul, from 1970 to 1974.
Jaliba Kuyateh worked temporarily at Sunwing Hotel, but later joined the teaching field where he taught briefly at Bakau primary school until 1977, when he sat to and passed the entrance examination to enter Gambia College. In 1979, Jaliba Kuyateh obtained the Teachers' Certificate with a distinction.
It was at Gambia College that he first formed a group called "Jaliba and Committee" with his fellow teachers. His first song was entitled "TESITO" in which he identified the values of hard work and encouraged all Gambians to work hard to improve the lives of our people.
The success of this track (TESITO) put him in the public domain, and challenged him to further develop his skills with a degree of responsibility, and this has led to the birth of KUMAREH BAND with more international recognition.
In 1995, Jaliba Kuyateh was granted honorary citizenship of Guinea Bissau by the then President Nino Viera, which was celebrated in a grand style in Bissau, where he was issued with a diplomatic passport and donated with a brand new car for his tremendous achievements and dominance in the use of the kora, which is a product of West Africa.
Together with his group members, the Kumareh Band, Jaliba Kuyateh continues to unite the ancient and modern worlds with his exciting, uplifting performances.
The son of a kora player, Jaliba Kuyateh began playing the 21-stringed instrument at the age of five. Although he showed talent with the instrument, he stopped playing after two years to focus on his school work.
 He did not pick it up again until 1977, when he was attending the teachers training course at the Gambia College. Although known for his music, with his favorite instrument called the kora, Jaliba Kuyateh is also recognized for his generosity and patriotism, and he has organized many concerts which promote the welfare of children, and he is described as the greatest lover of young children.
Among Jaliba Kuyateh's accolades are: The Gambia's UNICEF Goodwill Ambassador in recognition of the Kumareh Band's positive contribution towards child development, Goodwill ambassador of the Child Day Care Center of Standard Chartered Bank Gambia Limited located at Tallinding, Bansang Hospital Maternity Ward was renamed after Jaliba Kuyateh, The APRC General Hospital in Farafenni was also named after him and he was named the Man of the Year in 2009 by The Gambian Journalists Association.
However, the most significant award was the MRG in recognition of his contribution to national development in all sectors, conferred on Jaliba Kuyateh in March 2012 by President Yahya Jammeh, who is the holder of a diplomatic passport as a Gambian cultural ambassador.
Jaliba Kuyateh is a believer in protecting our cultural heritage; although he studied other traditional instruments during his school holidays in 1986, music remained a hobby.
While he continued to play with his Kumareh Band, Jaliba Kuyateh began working with the Ministry of education, youth, sports, and culture following his graduation in 1991.
Within a year, Jaliba voluntarily retired from his government job and turned his full-time attention to kora music, with only two members of his band agreeing to continue working with him. Jaliba formed the group known as the Kumarah Band and the success of his Kumareh Band came quickly.
In addition to touring France and Spain, Jaliba Kuyateh & the Kumareh Band released their debut album, Radio Kankang, in 1993. The album sold more than 15,000 copies, two albums. Dajukah and Tissoli, followed in 1994. Following the release of their fourth album, Hera Banko in 1995, Jaliba Kuyateh & the Kumareh Band toured the United States of America, recording a live album, Live in America.
Gambia's Third Day followed in 1996 and Njai Kunda in 1998. Fang Kanta, released in 1999 and in 2011 Jaliba released two of his most famous albums called Hekkatus Mass and Youki, who are the most popular and enjoyed albums ever released by Jaliba Kuyateh so far.
Jaliba Kuyateh will release his 2012 album tomorrow at Senegambia Beach Hotel called "Tupi Keh Jang".
Jaliba Kuyateh composed many songs spreading messages to his fans and other people on social issues, and rendered services free of charge by building schools, religious centers and health centers.
These developments went ahead, with Jaliba and the Kumareh Band blending traditional and modern musical instruments together, thus making it possible for Jaliba to produce music which suits both the young and older generation of Gambians, as well as visitors and, in particular, those abroad.
Jaliba Kuyateh found his way to neighboring Senegal and Guinea Bissau singing River Gambia kora, and he travelled to United States, Paris, France, Amsterdam and Stockholm.
He became famous in Amsterdam, when he played at the African Music Festival in the Paradiso with other African musicians.
Jaliba is a great kora singer because of his melodious voice. Without his singing, playing and dancing, the kora music would not have been the same. Jaliba had no other name than Jali, a noble role as a griot, ordained by his fans.
He is the driving force of Gambian kora music, and a man who made the instrument of kora well known in the world from The Gambia.
Jaliba's music is inspiring, and the songs carry messages of encouragement, faith, strength and history.
Jaliba Kuyateh's kora music carries a lasting value for the people of The Gambia and beyond, and he has released various music samples and musical styles with many artists around the world.
He sings both in English and in the African languages of Senegalese Wolof and Gambian Mandinka, which makes him the king of kora voices.
Jaliba Kuyateh is a legend in his lifetime. He is one of the great living luminaries of Gambian music. His whole life has been dedicated to playing kora music, and he is solely responsible for the introduction of Gambian kora music to millions of people outside The Gambia.
Read Other Articles In Article (Archive)