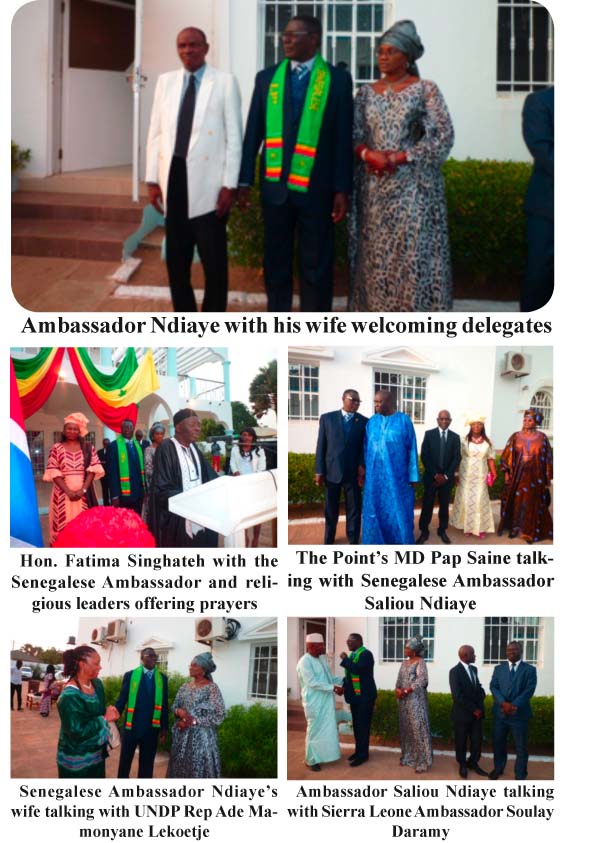 The Office of the Senegalese High Commissioner in The Gambia on 4 April 2015 joined the people of Senegal to celebrate the 55th Independence anniversary of the Republic of Senegal.
The celebration, attended by various officials of the Government of The Gambia and religious leaders, was held at its head office in Brufut.
In delivering the Independence statement, on behalf of the President of Senegal, Senegal's Ambassador to The Gambia, H.E. Saliou Ndiaye, welcomed delegates to the Senegalese embassy, saying: "Your presence, on this solemn day, eloquently reflects the strength and excellence of the privileged relations between Senegal and The Gambia.
"April 4th, is for us Senegalese, a day of remembrance, a day of rejoicing, cohesion and remobilization. It is indeed a symbolic movement of strong emotion in the life of our nation."
Ambassador Ndiaye further said: "My dear compatriots, the ambition of the President of the Republic, His Excellency, Macky Sall and his government, is to take Senegal to an emergent country by 2025; a prosperous country, full of opportunities for all its children regardless of their social background."
He said Senegalese have shown confidence in him to achieve this vision, adding that the foundation of Senegal becoming an emergent nation has already been firmly laid down, as in nearly three years, "many seeds of change were sown".
"In its transformation process, our country today presents itself as a multifaceted project, a new economy that relies on a strategy, projects, programmes and achievements," he said, adding that attainment of a rapidly growing status or emergence is a fight that requires faith and abnegation that appealed to all citizens.
"I therefore, invite you my dear compatriots, to transcend all our differences, come together and unite behind the President of the Republic, His Excellence Mr Macky Sall, as well as the government, headed by Mr Mohammed Boune Abdullah Dionne, for the construction of the new Senegal, democracy certainly, but also prosperity, and justice for all."
He said Senegalese should serve as vital forces for progress, peace, unity, work and justice for a stronger Senegal and concerted nation.
"The time has come, therefore, for unity around the essentials," Ambassador Ndiaye said, adding that with the help of God and the support of the people, "we will together hold to this commitment."
Ambassador Ndiaye also spoke on the fraternal ties and bond between Senegalese and Gambians, saying the continuous strengthening of the fraternal relations between The Gambia and Senegal "is a common aspiration of our two peoples as history, geography, culture, language and way of thinking are all shared items that make Gambians and Senegalese understand each other better than any other nations."
He said the relations between Senegal and The Gambia need not be illustrated by a nomenclature of adjectives, "simply because this relationship is unique and singular, driven by exceptional human ties based on common values, shared languages and the same vision of the world."
He expatiated: "This is a to say it is in fact a natural relationship that looks at the future with frankness that allows, enables and justifies the cultural and geographical proximity which characterises our bonds.
"This natural relationship is so deep that it is getting closer day by day, for example in real life."
He added: "Indeed, Gambians and Senegalese have lived together for a long time in this fraternity; in this friendship that is not feigned and this, inSha Allah, will last forever and ever, because Senegal and its President, His Excellency Mr Macky Sall, and The Gambia and its President, His Excellency Sheikh Professor Alhaji Dr Yayha A.J.J Jammeh, remain committed to the path of peaceful development, love for peace, commitment, honesty and seeking harmony between the two nations."
Ambassador Ndiaye said Senegal will continue to show "good neighbourliness", mutual understanding and quest of general harmony.
He added that he, as Ambassador of Senegal, would continue to work with the Gambian authorities to explore new fields and ways to further strengthen bilateral cooperation to attain a new level of fraternal and friendly relations between the two peoples.
On behalf of the Government of The Gambia, Hon. Fatima Singhateh, Minister of Justice, congratulated all Senegalese on their 55th Independence Anniversary.
She also seized the opportunity to thank the Ambassador of Senegal for the kind words of brotherliness and solidarity, to the people of The Gambia.
According to the Justice minister, the 55th Independence Anniversary of Senegal "is not a day only for celebration; it is also a day for reflection, on how far you have come as a nation, what plans there are for you as a nation" and the way forward.
Independence is not only about freedom from control; it is also about freedom from influence, freedom from financial aid, freedom from support, stated Hon. Singhateh.
She also reiterated that the bond between The Gambia and Senegal transcends geography.
"We are one people separated by colonialism," the Justice Minister noted. "This bond, therefore, needs to be protected and nurtured. This is what the President is advocating, as well as that is what His Excellency President Jammeh is also advocating.
She further said: "We are one and we share the same history, culture, values, belief; therefore, what affects one country, affects the other. We must always be brothers and sisters as we are one people.
"We must as Senegambians continue to endeavour to bridge any gap between our two peoples in line with our ideal of mutual cooperation and value and in line with various ECOWAS protocols we have signed."
The Justice Minister also assured the Senegalese Ambassador that The Gambia and her people "will continue to advocate for good neighbourliness and brotherliness between out=r two countries."
Read Other Articles In Article (Archive)