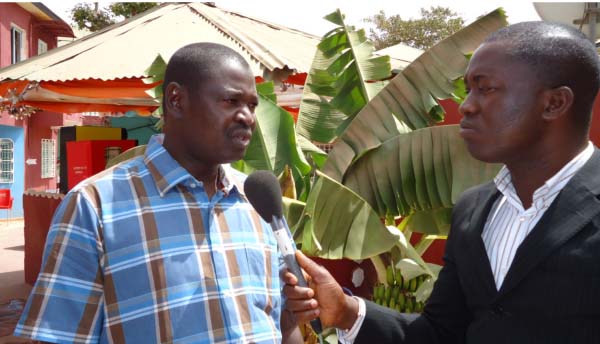 Planning Services Unit under the department of agriculture in collaboration with CILSS, FAO, WFP Fews-NET and local international NGO, Monday commenced a five-day seminar on food security analysis 'using harmonized framework' at the Baobab Hotel.
Abba Sankareh, head of Planning Services Unit under the department of agriculture, expressed delight to be associated with this very important seminar, saying that the forum was focusing on food security analysis workshop 'using the Joint harmonized framework'.
The workshop would stretch for a period of 5 days to allow experts with food security, vulnerability, market and nutrition backgrounds to actively participate in food security analysis of The Gambia "using the Joint Harmonized Framework," he noted.
According to Mr Sankareh, it was worth noting that CILSS clock 40 of existence had been supportive to member countries' development initiatives in all areas of development most particularly in the area of food security.
He further said that CILSS partners and country members have been developing the common tool to analysis food security and provide information.
He stated that the harmonized framework funded by the CILSS member countries, the EU, AFD, USAID, was developed in a process of research-action since 1999 with national devices actors of the CILSS member countries and other coastal countries of West Africa in 2012.
The HF approach based on inclusive participation, consensus, transparency and coordination in synergy allows analyzing food and nutritional security of the countries.
He said the results achieved of the implementation process of the HF in the Sahel and West Africa could be summarized to improving the overall analytical framework of national and regional devices for the prevention and management of food crises by taking into account the different indicators of results of food security and the inference of contributing factors.
Mr Sankareh further revealed that HF had also supported the improving understanding of concepts, improving the estimation process of vulnerable populations and strengthening the framework for synergy between local actors in different countries and at regional level for more efficient management of food crises.
"The Gambia is a signatory to this body and has since then been benefiting from all its development programs," he stated.
"In view of the moral commitment to ensure Food Security for the citizenry, Governments in West Africa have given it prominence and placed it high on the agenda," he added.
He said The Gambia under the leadership of President Yahya Jammeh had echoed food security as a key development agenda and had promoted policies and programmes that are responsive to Regional, Sub-Regional, national and local food security dimensions.
"I am convinced that this workshop has a membership that is multidisciplinary as this workshop requires proper analysis of data from all institutions here present to allow The Gambia to integrate well into regional, as well as, Sub-Regional food security endeavours," he continued.
He said the main purpose of this workshop was to analyze the current and projected food security conditions of The Gambia "using joint CILSS/FAO/WFP/FEWS NET/NGOs Harmonized Framework".
This workshop, he went on,was very important because since 1984 groups or areas, countries had been experiencing each year food insecurity as a result of poor harvests or insufficient incomes enabling population not to have access to adequate food.
He said situation was translated into a change in policy, indeed, people talk less about cereal food self-sufficiency, but much more about food security, access to markets, utilization, and, above all, poverty control and better access of populations to food.
Therefore, he said, the outcome of the workshop would contribute in ensuring that The Gambia, like all other CILSS member states, is provided with adequate food security information analysis to enhance good governance of food security for its population.
He thanked CILSS and its partners for facilitating the process of this analytical method, adding that the facilitators present would be sharing their deep knowledge and experience with Gambia experts.
The tool would surely earn them additional expertise and experience in terms of analyzing food Security information and provision for their respective sectors.
Mr Baoua Isssaoufou, expert in Harmonized Framework in Regional CISS, Niamey-Nigere, expressed delight and appreciation to the government of The Gambia for hosting the seminar on food security analysis 'Using Harmonized Framework'.
He noted that the importance attached to this forum could not be over emphasized, as this was a regional forum conducted in all the Sahel countries.
Read Other Articles In Article (Archive)