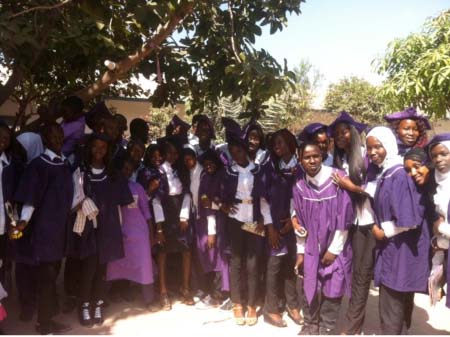 On Friday, Seino Upper Basic School held its 5th graduation ceremony.The ceremony was attended by many dignitaries within their surroundings and officials from the Ministry of Basic and Secondary Education, parents, guardians and students.
The ceremony was opened with prayers and the guest speaker of the day was Ousainou Drammeh, principal of SOS Senior Secondary School.
Mr Drammeh began his speech by thanking the school management for giving him such an invitation and choosing him as the guest speaker of the day.
"I wish to thank the school management for inviting me as guest speaker on the occasion of the 5th Graduation Ceremony of this great school.It is indeed an honour to be part of the process of transition from one level of the 6/3/3/4 cycle to another with an ultimate goal of acquiring education at tertiary level, during the course of the year.Dear graduates, you successfully completed the upper basic cycle and as a result, most of you are now in the 10th grade and in reputable senior secondary schools," he said.
"As I look back on the journey that started with hesitant, tentative steps and as parentsand teachers, we have followed your progress with keen interest and satisfaction because I believe you are on the right track in achieving your personal and national goals for a bright future," he added.
Furthermore, Mr Drammeh, as a guest speaker, was assigned to give a speech on the theme: "Education for sustainable development".
Mr Drammeh gave definitions and important quotations from the great educationist and philosophers, one like John Dewey who said: "To find out what one is fitted to and to secure an opportunity to do it, is the key to success."
He also emphasised on skills and training, saying: "Emphasis should be placed on skills training and development because it is only through this informal sector can be broadened and economic growth sustained.Each and every one of you should aim at setting up an enterprise with the sole aim of recruiting some people.In this way, the country will progress and poverty alleviation will be enhanced."
Concluding, he said: "I wish to remind you that you are slowly growing through adulthood; your thoughts and energy should be directed to what is worthwhile to all concerned and please be aware that you are the engineers that are to drive Vision 2020 to a successful era. And I thank you all may God bless you." 
Read Other Articles In Article (Archive)