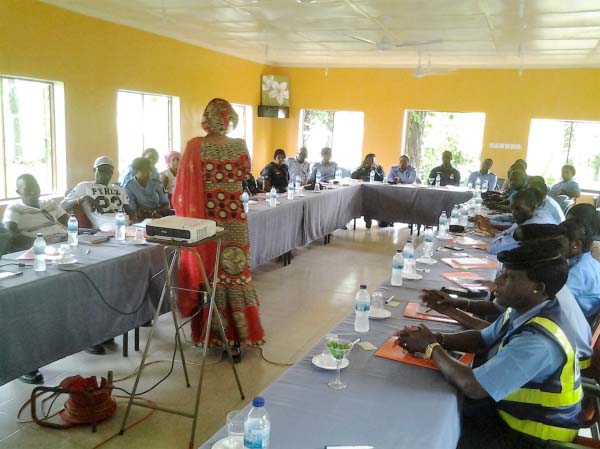 Almost 40 security officers from all the administrative regions in the country have ended a three-day training on HIV and AIDS prevention and its linkages with Gender Based violence, protective policing and Human Rights for the reduction of new infection.

During a three-day training at AbCa's Creek Lodge in Kassangn in the West Coast Region, the officers were given an overview of the HIV and AIDS situation in the country and presented with the different forms of violence against women.
They were taught how to address stigma and discrimination in the National HIV and AIDS Response and techniques they can use in communications and advocacy.
The officers were taken through the prevention and control of Sexually Transmitted Infections including HIV and AIDS, the HIV and AIDS Prevention and Control Act, strategies to reduce new infections among key populations and ActionAid's Human Rights Based Approach to development, HRBA.
The presentations were made by Mr Bai Cham of ActionAid' s Global Fund programme, Dr Sabally of Hands On care, Halimatou Jallow of the National Aids Control Programme, Almamo Barrow, Jainaba Nyang Njie and Fanta Jatta Sowe of ActionAid, Lawyer Dawda Jallow, Dr. Sidibeh, a psychologist and Jeggan Loum of Worldview. The training took place from the 12th to the 14th July 2017.
At the opening ceremony, ActionAid's Head of Programmes Almamo Barrow, who was deputising for his Executive Director, highlighted the importance of the participation of the security forces in the fight against HIV and AIDS, adding that the knowledge gained from the training will help them become good advocates for HIV and AIDS prevention and control.
The Director of the National AIDS Secretariat Ousman Badji told the officers that HIV and AIDS is no longer a health issue but a global security concern and that the police, especially the young men and women, are highly vulnerable to HIV and AIDS because of their work environment, mobility, age and other factors that expose them to higher risk of infection than their civilian counterparts.
Badji urged the officers to make the best use of the training and to disseminate the information they acquire at the end. In closing the training, the Head of Communications at ActionAid Jainaba Nyang Njie urged the officers to network among themselves in their efforts to sensitise their colleagues whilst Inspector Ebrima Kujabi urged his colleagues to use the knowledge acquired effectively.
17th July, 2017
Read Other Articles In Article (Archive)