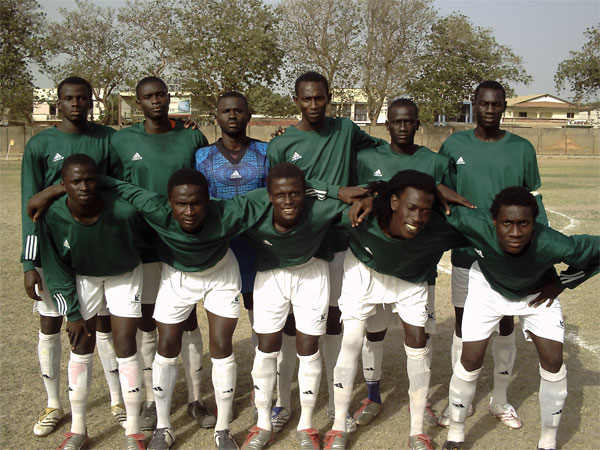 In what could be described by many football pundits across the country as a highly competitive and impressive first round in the GFA Division One League, the second round which will commence today is also expected to produce some wonderful games and revelation as all the clubs will be hoping to readjust their chemistry in order to be among the real title contenders.
The current league leaders Armed Forces has been no doubt the most impressive side in the first round not only due to the number of points at their disposal but they have also put up a respectable performances which earned the military squad the highest points of 23, six more than Bakau United who are currently occupying second spot with 17 points and have a player leading the scorers chart with 9 goals in the name of Pa Amadou Gaye alias (Daddy).
Bakau United is closely followed by the title holders Wallidan who came from nowhere to fix themselves in the third place with 17 points.
Saeview coached by the most successful local coach in the country in the person of Alagie Sarr has had a superb start to the season but seems to lose his winning spirit in the latter part of the championship.
The hotel club are lying fourth with 16 points and the coach is fighting to maintain the team in the 1st division next season, thus expressing his desire to finish the league within the top spot.
Steve Biko are in a joined 5th position with the Telecommunication Boys Gamtel and both will do their utmost to win the league they have never won.
Biko's side would be boosted following the timely return of the U-17 players from the African U-17 cadet championship in Algiers despite the sudden death of one of their instrumental star striker Kawsu Jatta as a result of a heart failure he sustained some time ago.
The newly promoted Brikama United side are also enjoying a fine start to the league with 15 points in 6th position.
The last year's runners up Samger settle in 7th place.
The academy boys have had an indifferent start to the season which is showing no sign of ending.
The 2007 league champions Real de Banjul had their worst start to the season having lost 5, won 4 and drew 2, with 14 points.
And as a result of that poor performances, Papa Sarr Corr who was in charge at the time was  sacked and replaced by veteran coach Pa Samba Mbenga who has proven to be a turning moment for the Banjul club.
Another big side that failed to impress during the first round is Hawks after bagging only 12 points and are struggling at the relegation zone along side fellow strugglers Tallinding United and Africell with 9 and 10 points respectively.
Meanwhile the Week 12 fixtures in the GFA first division second round are as follows:
Fixtures of Week 12
Fri 17/04/09 - Hawks vs Brikama United - 4.30pm, Stadium
Sat. 18/04/09 - Wallidan vs Real de Banjul - 4.30pm, Brikama
Sat. 18/04/09 - T/United vs Africell FC - 4.30pm, Manjai
Sun. 19/04/09    - Gamtel vs Steve Biko -  4.30pm, Brikama
Sun. 19/04/09    - Sea View vs Samger -  4.30pm, S/K/East
Sun. 19/04/09    - Armed Forces vs Bakau United - 4.30pm, Manjai
Read Other Articles In Article (Archive)