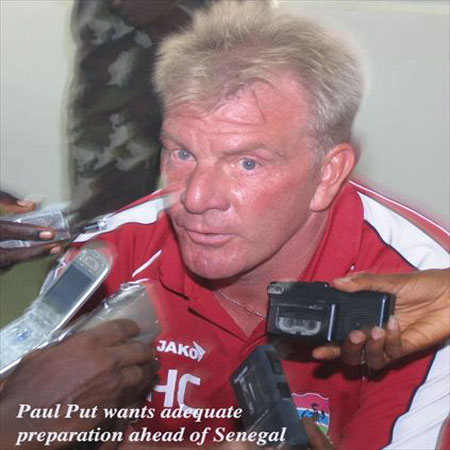 Paul Put, head coach of the Gambia senior national team, yesterday came under heavy criticism from the Gambian media, during at a press conference organized by the Gambia Football Association (GFA), following the team's recent defeat in Windhoek, Namibia.
The Scorpions' hope of qualification to their first-ever African Nations Cup finals was dealt a massive blow, following their 1-nil defeat by Namibia in the African Nations Cup qualifiers.
 The defeat in Namibia has seriously damaged the Scorpions' chances of appearing in next year's continental showdown in Gabon-Equatorial Guinea.
The result was also met with great shock and disappointment by Gambian fans back home, who are becoming increasingly impatient with Paul for failing to guide the team to the Nations Cup finals for the second consecutive time.
Speaking to journalists during the press conference, the Belgian tactician who wants to see out the remaining two years of his four-year contract, apologized to the Gambian people for the defeat at the hands of Namibia.
 "We were all embarrassed by the results against Namibia", he declared
The embattled scorpions coach stressed that the performance of the team in Namibia was the worst display ever, by his star-studded side since his appointment as Scorpions coach.
He also attributed The Gambia's defeat by Namibia to inadequate preparation, which is always blamed on the financial difficulties of the country's football authorities.
Paul Put who said he will remain loyal to the Gambian people added, "We will stand and react strongly to the defeat in Namibia by putting up a good fight against Burkina Faso, because I still believe we lost the battle at Namibia but we did not lose the war."
Reacting to claims that some of the players arrived late for the clash, and should have give chance to the likes of Seyfo Soley, the Belgium-born Gambian coach said the reason for sticking to the same team that started the qualifying campaign was the fact that you never change a winning team. "I have been trying to get the best balanced team to achieve the desire results", he added.
The team's dismal performance in Namibia was also attributed to the late arrival of some of the key players, but Bakary Terema Dahaba, administrator of the senior national team, said that was never an issue.
He explained that the reason for the late arrival of Tijan Jaiteh and Abdou Jammeh was one of airline ticketing, and that after a series of communications between the GFA and the Ministry responsible for Youth and Sports in The Gambia, the issue of the ticket for the Scorpions duo was resolved, Dahaba told the members of the media, who converged in their large numbers at the GFA secretariat.
Pointsport will bring you the other side of the press conference in tomorrow's edition.
Read Other Articles In Article (Archive)