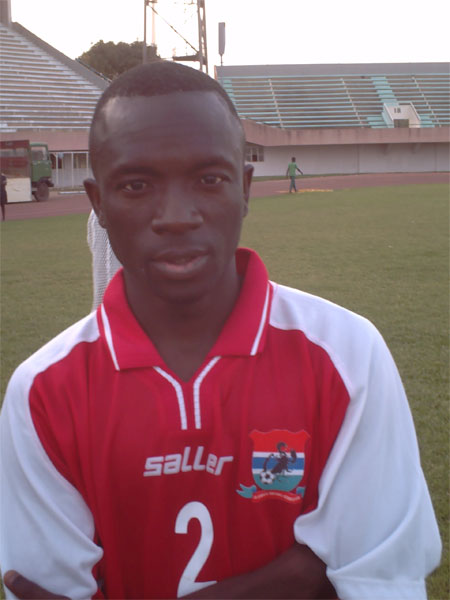 The captain of the Gambia senior national team, Ebou Sillah has urge the Gambian fans travelling to Dakar, Senegal for the most crucial derby game between the Gambia and Senegal in the World and African cup preliminaries round to stay calm and avoid no problem.
Speaking to reporters in an exclusive interview at the Sea View Garden Hotel were the team is camped, Captain Sillah said that the supporters should go and support in peace. "Let them not go and fight; let them stay calm and support as we did in the Gambia and we promised them that we will give them the victory by the help of God." According to captain Sillah, "the game is very important and we all know that and we the player are aware of the importance of this game because loosing it means that we will not play international football for 3years.
He said that "the last game between the Gambia and Senegal was a nice game but we Gambian players lost our temper during that game because I was slap during that game, but is different from this one because we have learn our mistakes from the past and Senegal cannot win us in football; they always provoke us and we follow them and get angry".
That game, Captain Sillah added, was a history and will never happened again. "If Senegal is sitting today and calling all their players for the Gambia then you know there is something because watching their TV they always talk about Gambia. I feel happy and know that the Gambia have a team".
Sillah did not however forget the support of their sponsors, saying that "we are very happy with our sponsors Africell for the wonderful job they are doing and we hope and pray that they will extend the contract of our coach. We are very please with the coach and hope that they will come and extend his contract.
He also on behalf of the team, commended Hatib Janneh and the staff of Seaview Hotel for what de described as their support and kindness to all the players.
Also speaking earlier, Cherno Samba said that "We are going for a win and we have the believe that we are going to win Senegal. That is our faith and we will do it by the help of God."
Lamin Conateh for his part said that "is about 90minitue and we are going for the 3 points and the mood in the camp in very high and we are ready to do it".
Ebrima Sohna said that "we are all ready for the game and everybody know that. We are going there to qualify. Every one is ready to give his best on Saturday".
Ngogu Demba also explained that "we need the prayers of everybody. We should know that is just a game and the two countries are the same in football. You either win or lose but we are well prepared for the game and ready to make history".
OJ Kruma for his part said that "we are going to make history and by the help of God, nothing can stop us from getting the 3points. We have confidence and we are willing to do it".
It could be recalled that  Algeria top the group with 9points the Gambia is lying second  ahead of Senegal with 8point +3 Senegal 8+2 Liberia 2points.
Read Other Articles In Article (Archive)