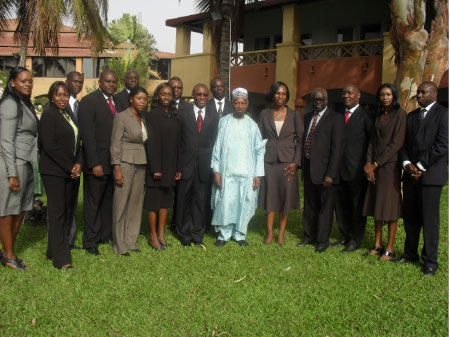 Standard Chartered Bank has delivered outstanding results for its financial year ended 31 December 2010, against "uncertain and sometimes difficult global economic environment" in an intensely competitive domestic market.
The bank's profit and loss account and balance sheet made clear its outstanding performance for the year key among which are its profit before tax, which increased by 112% from D78 million in 2009 to D166 million in 2010; operating income by 28% from D323 million in 2009 to D415 million in 2010; total assets by 13% from D2.6 billion in 2009 to D2.9 billion in 2010; and customer deposits by12% from D2.1 billion in 2009 to D2.4 billion in 2010.
On account of a profit for the year after tax of D96 million in 2010 up from D39 million in 2009, Standard Chartered Bank Gambia also put into the pockets and purses of its shareholders a total dividend per share of 70 bututs in 2010 up from 55 bututs in 2009 after an earnings per share of 160 bututs from 66 bututs respectively.
"The  year 2010 was another year of outstanding performance," SCB Chairman Momodou B.A. Senghore said at the bank's Annual General Meeting held yesterday at the Kairaba Beach Hotel in Senegambia. 
"We have demonstrated we have the right strategy, the right culture and the right footprint to deliver consistent and sustained value for our Shareholders," he added, saying that the results are a testament that the bank is in a position of strength.
"The investments we have made in our distribution channels, our products, our services, our people and in our systems are realizing great value," he noted. "We have met regulatory capital commitments in a timely manner, ensuring that your Bank is well capitalised. Our capital adequacy is well above the regulatory minimum."
The consistent and long-term growth of Standard Chartered Bank Gambia is the heartbeat of its management and staff, who are working tirelessly to always deliver on promise.
"We are stepping up investment in our people, systems, channels and the Brand to grasp the long term opportunities in our market," said Humphrey Mukwereza, SCB Chief Executive Officer.
In 2010, he said, SCB's Consumer Banking successfully launched the Customer Charter which is key pillar in the business' customer centric strategy. "Innovative service driven ideas agreed by staff during the Customer Charter roll out workshops held in the first half of the year have been implemented," CEO Mukwereza noted. "These have tremendously enhanced our Customer Value Proposition."
Over the year, invaluable gifts were given to their customers backed up with personal visits to offices of clients during the Customer Charter month. It also conducted customer caring and sharing programmes such as its 'Together to Win' campaign, which earned customers numerous valuable items and physical cash, as well as meeting its corporate social responsibility in various sectors such as health, to which the bank recently handed over an RVTH Pediatric Ward it refurbished at the cost of over D456,000.
SCB is also determined to ensure it meet the needs and aspirations of its customers by always giving them services of first-class technology.
CEO Mukwereza buttressed this fact: "In today's business environment, Technology is ever more important and in Standard Chartered Gambia we continue to leverage on our Technology in order to provide more convenience to both our external and internal customers.
"2010 was a great year in that we did not only see significant business achievements enabled by our Group Technology and Operations through the implementation and upgrade of platforms, systems, and tools but also made progress in driving our continuous improvement agenda which creates more growth opportunities for the bank in terms of new products and services."
Over the years, SCB has continued on the path of registering growth and outstanding results, which led to its exceptional record this year compared to last year's.
Executive Director of Finance Richard Ahulu said of the bank's financial performance: "The Bank has performed extremely well this year, delivering strong income and profit growth. We continue to focus on our strategy and the basics of banking, ensuring strong capital and liquidity to position us for continued growth in 2011."
Mr Ahulu said the bank had never lost sight of its key disciplines such as Liquidity, Capital, Risk and Costs. "We have continued with our conservative approach to liquidity management and further enhanced liquidity driven by very good levels of deposit growth," he said, adding that the bank is well capitalised and continue to maintain a strong capital position, while it takes a proactive approach to risk management and keeps a tight lid on discretionary spend.
The bank's Consumer Banking is on track and keeps delivering exceptional performance in its operations in the country, head of Consumer Banking Musa Jallow said: "Consumer Banking finished 2010 in the great shape, well positioned to weather current and future challenges with good headroom to grow in The Gambia.
"In 2010 Consumer Banking's operating profit registered an impressive year on year growth of 66 per cent. This growth was based on top line revenue growth of 25 per cent and strict cost management at the levels of 2009."
The clients are at the centre of everything the bank does, says head of Wholesale Banking Bai Mas Saine. "Our clients trust us to help them achieve their growth ambitions. Our consistent strategy and unwavering focus on supporting our clients has enabled us to sustain our strong performance and enhance shareholder value.
"From a client segment viewpoint, Global Corporate grew 12 per cent year on year while supporting a Commodity Traders and Agriculture segment grew more than 500 per cent."
The bank also strives to gain and maintain qualitative staff, who receive its consistent leg up for capacity building to meet customer satisfaction.
The bank's priorities for 2011 include being disciplined and focused in the execution of its strategy; continuing to implement and embed its customer-focused transformation designed to drive sustainable competitive advantage; deepening its client relationships by increasing its offering of client solutions for its key client segments; increasing its focus on attracting and retaining talented employees by offering more opportunities for training and development; and building on its work to measure its  social and economic impact.
The profound appreciation and thanks of the bank's Chairman Senghore and CEO Mukwereza go to its shareholders, management and staff, the clientele and the Gambian government, which created the environment conducive for the private sector, such as financial institutions, to operate.
Read Other Articles In Article (Archive)