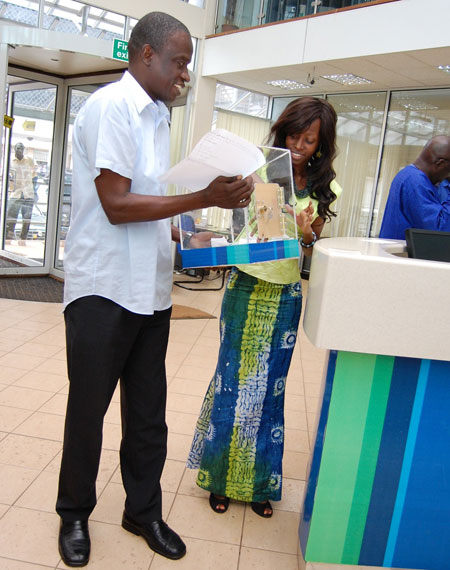 The Standard Chartered Bank (SCB), one of the leading financial entities has continued to unveil more productive services, the latest of which was the Dreams Come True campaign. This is a liability mobilisation campaign said to be the first of its kind in the country, where SCB has pledged to set up a small and medium business worth GMD500, 000 for the winner in the final draw.
The campaign, which was launched in August 2009, is expected to run up to the end of December this year, with monthly draws in order to delight customers throughout the campaign period.
The first draw of the campaign was held last Friday 25th September 2009, at the bank's head office in Banjul.
The draw shows four customers winning valuable items. The first winner walked home with an LG air conditioner, while the second winner got Hi Fi stereo set. The third winner got DVD player, while the fourth winner went home with LG refrigerator.
Speaking at the draw, Mr. Ousman Njie, the Head of Branch Banking, said "we urge our customers to continue to make as much deposits as possible to gather more coupons and stand better chances of winning the mega prize of an SME business worth D500, 000".
According to him, they had witnessed the same customer winning two out of the four prizes. As he put it, the customer had deposited a large amount of money which earned her several coupons into the draw.
All the customers with total deposits of GMD200, 000 and above, i.e. minimum of 20 coupons will qualify for the mega draw to win the small and medium business worth GMD500, 000.
The winners of the campaign would be presented with prizes at the next monthly draw.
Read Other Articles In Article (Archive)