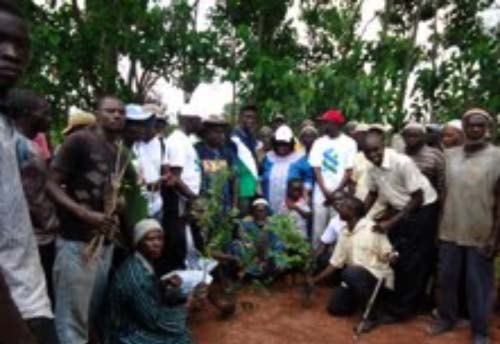 The Department of Forestry, in collaboration with Standard Chartered Bank and stakeholders, as well as the community of Kombo East, over the weekend embarked on massive tree planting exercise at Kafuta National Forest Park.
The exercise, which lasted for four hours, also showed the participation of the FAO country representative in it.
Speaking an interview with reporters at the exercise, Ousman Njie, head of integrated distribution at Standard Chartered Bank, said the participation of SCBin this type of exercise was part of the bank's cooperate social responsibility.
"The bank is very delighted to be associated with this type of exercise geared towards national development," Mr Njie said. He added that SCB believed in giving back to the community, and one way of doing so is by responding to the needs and aspirations of communities in which they operate, through collective effort in nation building.
According to Mr Njie, embarking on tree planting exercise was not new to Standard Charter Bank, noting that over the years they are collaborating with the department of forestry to do tree planting in various forest parks.
He further described tree planting as very important to any nation's development as it would bring back the lost trees and animals to the forest.He also recalled that last year SCB also embarked on series of activities regarding the protection of forest cover, adding that the importance attached to forest cover is immeasurable in the sense that half of the Gambian population is dependent on the forest in one way or the other for economic benefit.
He said banks are not left out in fulfilling their corporate social responsibility to nation building, and challenged all Gambians to adopt the habit of planting at least a tree, for future generation to come.
Mr Njiethanked his staff for their hard work and for collaborating with other government institutions in making the event a reality, adding that it is only through collective effort they could make a head way.
He revealed that the exercise was a joint effort between the forestry department and the bank, while the bank provided five hundred seeds and planting materials to ensure the community enjoy healthy forest cover.
Cherno Gai, head of Participatory Forestry Department, said the exercise was conducted to restore the tree species no longer in existence in The Gambia as a result of environmental degradation.
Mr Gai further revealed that the forest has a total of 420 hectare and it also shares border with Casamance and some surrounding villages, for which the department of forestry and its partner institutions with support from Standard Chartered Bank felt it necessary to come out to support and restore the Kafuta National Forest Park.
He revealed that the total seeds planted were about 16,000.
While thanking Standard Chartered Bank for their effort, he said the bank contributed 500 seeds and some planting materials to the exercise. 
Read Other Articles In Article (Archive)