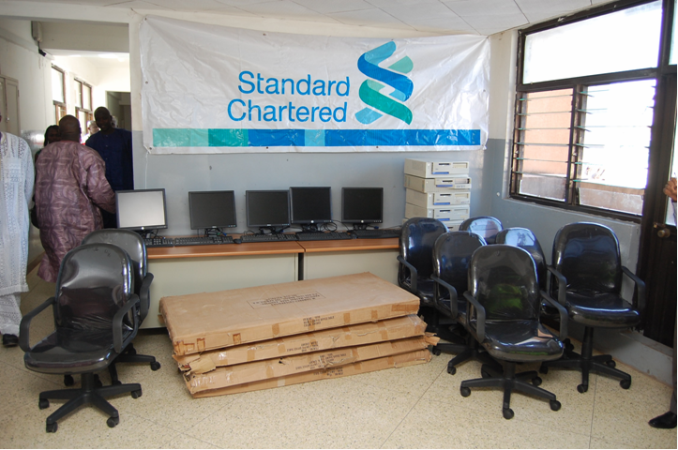 Standard Chartered Bank, a leading financial institution in The Gambia, last Friday gave a handsome donation of office equipment and furniture to the Fraud Squad of the Gambia Police Force.
As part of its corporate social responsibility, the bank officials donated four computer sets with accessories, tables, eights chairs, four desks and two gallons of paint at a colourful ceremony held at the police headquarters in Banjul.
In making the presentation, the chief executive officer and managing director of the bank, Humphrey Mukwereza, told the police high command that he was delighted to make a small contribution of office furniture, paint and computers, to the police force fraud squad.
"We hope these resources will complement government to create a conductive working environment for the police force. Business is about partnership and we are very pleased with the partnership we have with the Gambia Police Force," Mr Mukwereza said.
The SCB managing director, in his show of appreciation at the police for their good work in keeping the people of the country safe, said: "Your work is critical and essential in creating a safe environment which in turn supports the growth of business and the economy."
In his remarks, the Officer Commanding the Fraud Squad of the Gambia Police Force, Chief Superintendent Biran Jobe, said: "This not a surprise donation; it was not long when SCB renovated the Fraud Squad. On behalf of the Management I thank the Bank for the job well done."
Chief Superintendent Jobe called on other institutions to emulate the humanitarian gesture of the SCB, saying without a conductive environment they would find it difficult do their work.
"This will greatly help the work of the fraud squad in the execution of its mandate and duties. I believe SCB is the best bank in The Gambia. And when it comes to economic crime SCB is very careful." OC Jobe added.
Commissioner Landing Kinteh, head of the Gambia Police Force Prosecution Unit, added his voice to OC Jobe's while calling on others to emulate the SCB.
He hailed the collaboration and partnership between the police force and the bank highlighting some of the support rendered by the bank to the police over the years.
"This donation will complement the efforts of the Government of The Gambia, Commissioner Kinteh said, while encouraging the bank to keep up the good work.
Read Other Articles In Article (Archive)