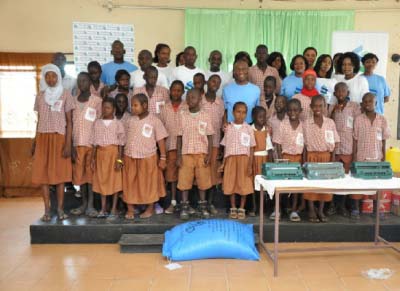 Standard Chartered Bank Gambia on 28 July 2011 donated Three Braille Machines and food items to GOVI School for the Blind to the tune of D88,000 in the bank's bid to contribute towards education of the blind and visually impaired persons in The Gambia.
Under the bank's 'Seeing is Believing' initiative, the Consumer Banking Business donated three Braille machines worth over D73,000 to help in eradicating the barriers in education of blind children, mainly those of the GOVI School for the Blind, the bank said.
In addition to the Braille machines, the bank also complemented the school's feeding programme by donating five bags of rice, a bag of sugar, four gallons of cooking oil, three cartons of corned beef, three cartons of sardines, and four tins of powdered milk, enough to feed all the students for a few months in the school year, which amounted to D15,000.
In addition to the donation of the items, almost twenty Standard Chartered staff spent the day mentoring the students and assisting the teachers, under their Employee Volunteering initiative.
The staff were touched by the students who could identify some of them by their voices after hearing them speak.
Humphrey Mukwereza, CEO of Standard Chartered Bank Gambia, said at the humanitarian show of love and caring: "We would like to reassure our commitment of a continued partnership with the GOVI School for the Blind as Standard Chartered leads the way in The Gambia. We would like GOVI to refer brilliant students from the school for possible employment in the Bank under our Diversity &Inclusion initiative."
Mr Corrah, GOVI president, extended his heartfelt appreciation to Standard Chartered and commended them for their longstanding relationship with GOVI many years ago. He referred to the bank as GOVI's "Long time friend" and implored all institutions to emulate them.
In delivering a statement on behalf of the bank, Mr Ousman Njie, Head of Consumer Banking for Standard Chartered Gambia, stated Standard Chartered "remains committed" to assisting its local communities by making positive contribution to blindness education, adding that the donation would make a real difference in the lives of the children as "the Bank remains Here for good".
GOVI executive director Mawdu Touray, who officiated the ceremony, called on a couple of students to demonstrate the usage of the new Braille machines brought in by the bank.
He also extended his appreciation to the bank for the machines, which are the only source of written communication and learning tools at the School for the Blind.
The ceremony ended with rendition of heartfelt songs by children of the school.
Read Other Articles In Article (Archive)