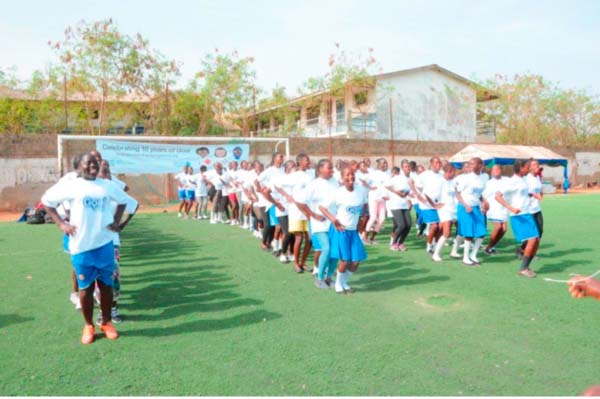 Standard Chartered Bank (SCB) Monday 6 March 2017 started celebrating the International Women Day with 200 girls from St Joseph High School in Banjul.

According to bank officials, the celebration was part of the International Women's Day, which marked the first event they would have with St Joseph High School to re-initiate their goal programme.
The goal programme, according to bank officials, was launched at St Joseph's High School last year 2016, a programme that teaches girls about their life skills through sport.
The bank officials further stated that there are 200 girls and they have done classroom discussion with them about all the goal programme and modules.
The goal programme has four modules: one of them include be yourself, be healthy, be employed and know how to save money.
According to them, what the bank does is to teach the girls how to manage their personal hygiene, to know how to save money, to know what their rights are, and how they could protect their rights.
During this exercise at the St Joseph School ground, they divided the students into various groups to be able to understand better about the modules the bank wants to teach them.
They played different games and each of these groups would go through all the different stations and the games to cover some of the topics taught them.
According to bank officials, among the expectations is that the girls, at the end of the day, would understand some of the rights they have.
They also hope that at the end of the day the skills that the bank teaches them will be of great help and importance in transforming their livelihood, to become better citizens of the nation.
Read Other Articles In Article (Archive)