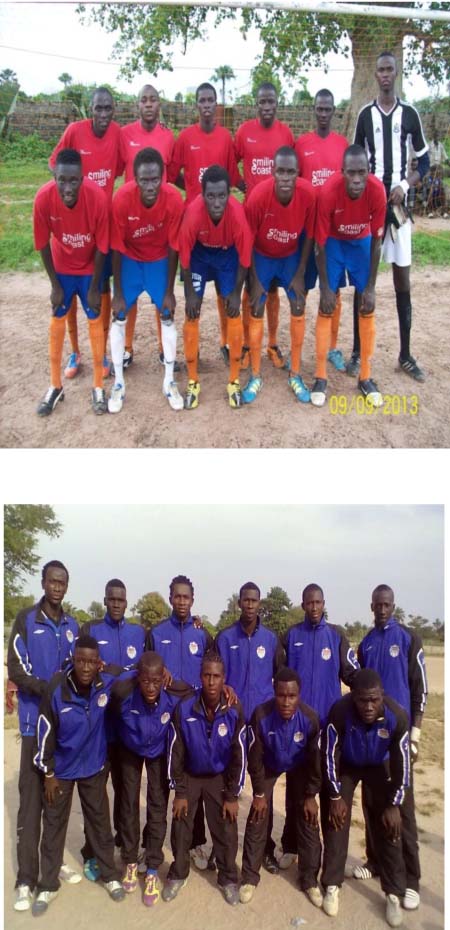 The 2013-2014 Gunjur summer biggest football fiesta league final is billed for Saturday 16 November 2013, at the town's biggest and popular football arena, Gunjur Nyamina Football Field, at 4.30pm.
The much-awaited league final will feature giant killers Steve Biko FC and UK boys Sunderland FC.
The game is described by many football fans in Gunjur and its satellite areas as the clash of the titans.
The November 16 league final will be the second meeting of Steve Biko and Sunderland in the Gunjur Summer football jamboree.
Steve Biko beat Sunderland 1-0 in their debut appearance in the Gunjur summer biggest football fray last season, which resulted in Sunderland's early exit in the Nawettan.
Steve Biko made a slow start to the 2013-2014 Gunjur nawettan campaign after their goalless draw against embattled NAS FC before whipping Sibindinto FC and Kajabang FC 5-2 and 1-0 respectively to finish top spot in group C with 7 points in three outings.
Steve Biko beat Late Dembo FC 1-0 in the quarterfinal before pounding Knockout finalists Alex Sanchaba FC 2-0 in the semi-final to progress to the league final for the third consecutive time.
The giant killers will be hoping for a win to grab the trophy after four years of trophy drought after losing two consecutive league finals against Gamcel FC in the 2011-2012 season and the World Eleven FC in the 2012-2013 season.
Sunderland FC, on the other hand, made a woeful start to the 2013-2014 Gunjur nawettan campaign after losing to cellular boys Gamcel FC 2-0 in their opening group D tie, drew goalless with Dabani Electrical Enterprise Limited FC before spanking Solifo Investment FC 3-0 to secure a second spot in group D with 4 points in three games.
Sunderland defeated reigning league and Super Cup champions World Eleven FC 4-3 on penalties, after a goalless draw in the regulation time.
The UK boys snatched a place in the league final following their 3-2 post-match penalty shootout victory over the 2009-2010 league and Super Cup champions Commit FC, after the normal time failed to produce a winner.
The UK boys will also be expecting a win to grasp their first trophy in Gunjur nawettan since making a debut in Gunjur Nawettan last season.
Read Other Articles In Article (Archive)