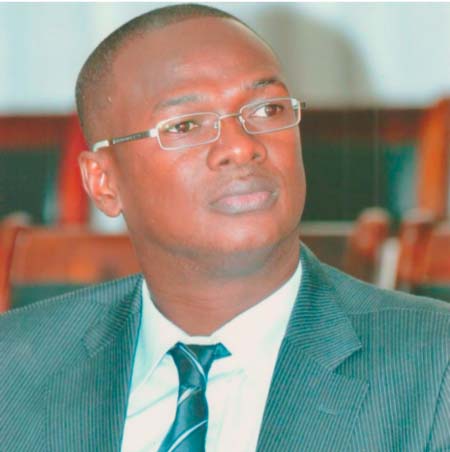 The Chief Executive Officer of SBD Printing Press, Essa Bah, has reiterated the commitment of his company to delivering quality and decent services to the nation, especially to his esteemed customers, in the new dispensation.

SBD Printing Press does not believe in segregation, but equal treatment for all its customers with care and respect, he said whilst speaking to the press at his office at Westfield along the Brikama Highway.
A young innovative Gambian, who lived in Germany for two and a half decades operating in printing services, Mr Bah said his ambition has always been to contribute his quota to the development of The Gambia.
Armed with a wealth of knowledge and vast experience, Mr Bah said he is ready and willing to share his 25-year work experience and knowledge with the Gambian people, especially with the youths for their own development.
"I believe in sharing and caring of experiences, which is what motivated me to establish the SBD Printing Press to be able to create more job opportunities for the youths in The Gambia," he said.
Setting up a sustainable business was part of his life career agenda since in 1997-98, while he was in Germany with the aim to come back and plough back to The Gambia for the people, he said.
According to Mr Bah, while he was in Germany, he attempted to set up two types of businesses, but they could not materialize. And he decided to visit The Gambia to do a feasibility study, which was when he saw the need to establish fully at home to especially serve The Gambia and create job opportunities for the youths, whilst also imparting knowledge, skills, and entrepreneurial know how in Gambian youths.
He started by employing only two people, but he now has a lot of people working with him and learning new skills every day, through which they earn their living and take care of their families.
It was even difficult to pay them a salary, but as time went on after he returned to Germany, took up management courses and came back, he was able to buy standard machines that can sustained his business and offer quality printing services to its valuable customers.
According to CEO Bah, SBD Printing does a lot of printing jobs such as T-shirts, calendars, paper printing; and he is calling on all to make use of their services, as they provide quality products in the market.
Whilst commending his workers for their commitment and team work, Mr Bah challenged the Gambian youths to engage in skillful jobs or endeavours that would earn them skills and a source of generating income for their survival, progress and development, especially in the new Gambia.
Malang S. Congira, also of SBD printing press, said: "We are here to facilitate the printing services for all the people in The Gambia and beyond, and our aim and objective is to facilitate and create employment opportunities for the youths, to develop them to know what to do in the future; to help them become entrepreneurs to promote small-scale and macro businesses in the new Gambia and beyond."
He added: "We are committed to providing quality printing services to our customers."
Also speaking at the press conference, Fatoumatta Cham, marketing manager of SBD Printing, said: "Our objective is to have more businesses and expand our coverage to our customers both in the private and public sectors."
She said SBD Printing, owned by a private Gambian, has been in existence for eleven years. "We provide quality printing to the taste and satisfaction of our customers," she said.
Read Other Articles In Article (Archive)