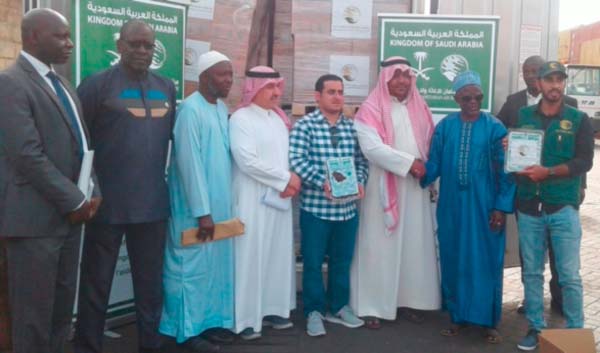 King Salma Humanitarian Aid & Relief Centre of the Kingdom of Saudi Arabia Tuesday has given more than 50 tonnes of dates to The Gambia Government ahead of the holy month of Ramadan.

The presentation ceremony was held at The Gambia Ports Authority, where officials of the Foreign Affairs Ministry took delivery of the donated dates on behalf of The Gambia government.
Speaking at the ceremony, the Minister of Foreign Affairs, International Cooperation and Gambians Aboard, Ousainou Darboe, said the Government of The Gambia was very appreciative of the gift because it was timely as the month of Ramadan is approaching.
Minister Darboe also said the gesture shows how much the Kingdom of Saudi Arabia thinks of The Gambia, which was why the gift was "very significantly symbolic" as it is a tradition in Islam for the consumption of dates immediately before breaking fast.
"We all know the value of dates, dating way back to our great prophet (PBUH), and scientifically it has been said that there is lot of nutritional."
Abdou Rahman Altaibi, Charge Affairs at the Saudi Embassy in Senegal, said the gesture indicated the relationship between the Kingdom of Saudi Arabia and The Gambia, saying they would continue to strengthen the bilateral relations.
He said the Kingdom of Saudi Arabia would always assist the Muslim Ummah, especially the Gambian people, as they have a special consideration for them.
Read Other Articles In Article (Archive)