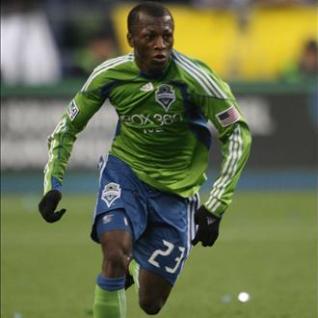 The Sounders FC now look up to the off-season, after finishing a season that included a second Open Cup championship and a second appearance in the playoffs.
Sanna Nyassi, who was a key player to the US open win, has emerged as one of Sounders' quality starters.
The team has focused on building itself towards 2011, hoping to further climb the ladder in all competitions, according to the club's website.
The  Sounders FC's second season came to a close on Sunday with a 2-1 loss to the LA Galaxy, ending the  Western Conference Semifinal with a 3-1 aggregate goal tally.
The team ended a season that saw them make their first appearance in the CONCACAF Champions League and earn another berth in the next CCL by winning their second straight Lamar Hunt US Open Cup. 
They finished with more wins, goals, shutouts and points than they did in 2009.
"After the match is before the match," head coach Sigi Schmid said on www.soundersfc.com.  "Our next match is next season, so for me it's already a process of deciding which are the nucleus pieces that we can build with and where we need to get a little bit better."
Seattle is one of the only two teams in MLS that had two players score at least ten goals.  Seattle had Fredy Montero and Steve Zakuani each with ten goals. The only other team to match that figure was the Colorado Rapids, who got 14 goals from Omar Cummings and 13 from Conor Casey. 
However, add Blaise Nkufo's five goals after he was added in midseason and the Sounders have a formidable scoring trio.
Seattle will also look to include Alvaro Fernandez more into the scheme.  Also added at midseason, Fernandez got caught in a logjam in the midfield as Nathan Sturgis and Sanna Nyassi emerged as quality starters alongside stalwarts Zakuani and Osvaldo Alonso.
On defence, Seattle had more shutouts this season than 2009, but at times struggled with their consistency ahead of Kasey Keller, having five games and let in two goals, four when they allowed three and one four-goal onslaught from the Galaxy.
Those figures, and the second straight first-round playoff departure, leave the Sounders hungry for improvement in the 2011 season.
"We're going on the right path. We just need to keep doing what we're doing.  We're a very young team and this is a good experience for our careers, wherever we may go," Zakuani said.  "When we come back next year, we can build off this and if we manage to do that it will be a good year next year.  We can hold our heads up proud – it's been a good year.  We just have to be better."
Read Other Articles In Article (Archive)