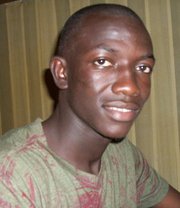 The General Manager of Samba Tako Forex Bureau Alfusainey Yeah Ceesay has disclosed that his money transfer bureau will be expanded and spread to many parts of the country in 2011.
"Well at Samba Tako we are operating on Western Union transfers and foreign exchange, we also deal with foreign currencies of all domination's like the Dollar, the British pound sterling, CFA, and change them into local money and vice visa." Ceesay explained.
"Basically, We have expanded our network to three places; we are eyeing for more expansion in the length and breadth of the country as part of our outreach programme to the customers who are in the upcountry to have access to their money at any given time," he said.
According to Samba Tako, they are currently operating in Tallinding, Bakau and Janjangbureh. "Likewise is our wish for this year is to expand to other places," he said.
"We are a young bureau looking forward to our customers' satisfaction in order to cater for our demanding population." Ceesay said, while speaking in an interview with this reporter.
He said as far as security and reliability are concerned their services are second to none. "Our services will deliver efficiently and more reliably compared to other money transfer centres," he said.
"Well, when it comes to Western Union, which is the international body dealing in global money transfer, one can send money through Western Union different destinations to receivers in other parts of the world, for example The Gambia, and eventually we pay it at any of our locations here in The Gambia via the electronic system connected to the internet log in to your western Union software and you access the person's details."
He said the sender also the give the receiver a control number of ten digits in order to perform that operation, adding that on the issue of local currencies, they usually get feedback from the Central Bank of The Gambia that "update us with the current rates and we change according to those buying and selling rates".
Quizzed as to what measure the bureau is doing to avert fraud, Ceesay had this to say: "Well, 2010 was a year of a lot of experience for us and I believe in any start of business you have constraints at some point. We were once victims of fraud when we were buying a fake euro from a client unknowingly. That area we have tried to adjust ourselves more and get a machine that detects fake currencies."
He added that his staff have developed experience in deterring certain fraudulent activities.
Read Other Articles In Article (Archive)