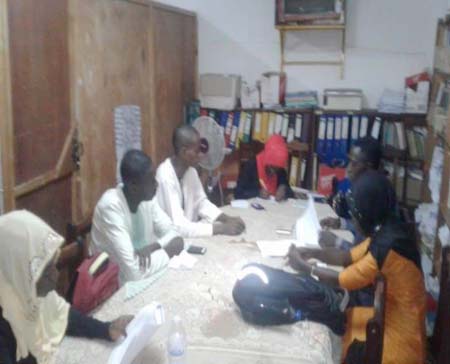 Salimatou Foundation for Education (SaFE), a civil society organisation that promotes and advocates for the right to education, recently celebrated its one-year anniversary.

The foundation, founded by a young Gambian activist, Salimatou Fatty, last year November, promotes and advocates for the provision of free, affordable, safe, relevant and quality education to all people.
In commemoration of the anniversary, the foundation organised a press conference at Child Protection Alliance in Fajara on Friday to share with the media the progress registered so far.
The foundation's assistant COE Muhammed Kebbeh, said over the course of the one-year, the foundation has undertaken many activities such as community outreach, school visits, donation, sponsoring and mentoring.
He affirmed that as they commemorate the first anniversary, they once again renew their commitment to advocate for free, safe, relevant and quality education for all regardless of tribe, gender or religion.
Mr Kebbeh said the foundation is currently sponsoring some less privileged kids through the support of individuals who love the ideals of the organisation.
"But this is not enough as many kids are out there and not able to make it to school," he said, while calling on individuals and organisations to come on board and help the foundation achieve one of their greatest objectives – helping to ensure that every child has good education.
"We cannot do it all alone and that is why we partnered and are still partnering with organisations and institutions of common interest and goals to complement and make work easier and further each other's aims and objectives," he added.
Mr Kebbeh thanked the volunteers of the foundation, who, he said, sacrifice their time, efforts and even sometimes money to see to it that the agenda of the foundation is pushed further.
Fatima Jajur, one of the volunteers of Salimatou Foundation, said the foundation has a lot to offer in the near future.
"We have plans to conduct a regional and national spelling bee for primary schools in the country," she said.
The foundation also conducts weekend classes for their sponsored kids to help them caught up in schools and be fast learners.
She said the foundation would be rolling out a mentoring scheme to mentor kids on their future career plans as many children are now faced with the trouble of choosing a suitable career.
Read Other Articles In Article (Archive)