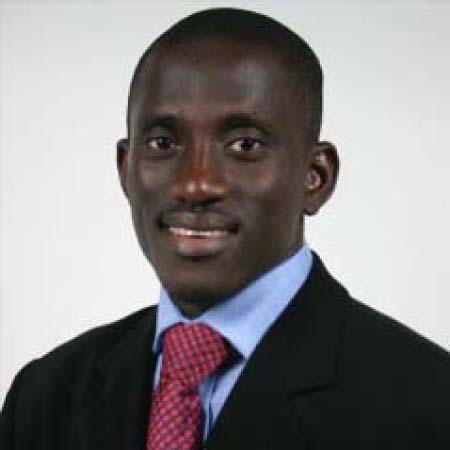 Former Presidential Affairs Minister and International Speaker, Momodou Sabally, has called on young people to develop the right positive mindsets so that they can use technology productively to the benefit of their communities and the nation at large.

Sabally made these remarks, February 20, at the American International University West Africa, where he was guest speaker alongside National Assembly Members Honourable Madi Ceesay and Honourable Halifa Sallah. The occasion marked the official handing over of the leadership of the university's student union from the outgoing executive to the newly elected team.
Sabally commended the students for showing the nation a bright example in the matter of responsible governance and hitch-free transfer of power.
Speaking on the topic "Prospects and challenges of young people in the changing face of technology" Sabally asserted "Like fire, technology is a good servant but bad master. What will it constitute for you? 'Dess na si yow!' Are you gonna use technology to fan the flames of hatred and tribalism or love and unity?
"Are you gonna use technology to spy on people and share nude pictures and hate speech or are you gonna use that mobile phone to help monitor the whether for farmers or help check the blood pressure of your patients?
"The power of technology can help us leapfrog the development process but that can only happen if you, the young people, decide to build informed and positive mindsets as opposed to trivial and superficial mindsets, competing in the number of Facebook likes and which version of camera 360 you should use to enhance your profile pictures.
"We are in the era of #coding and that is a huge opportunity for you, the young ones, to use your creative energy to come up with tech solutions that will be of benefit to your communities and nations. But your coding skills, like tech itself, could be a good servant or a bad master...
"And that is why when I spoke at the Confederation of West African Youths' youth forum in Freetown on this subject, I asserted that before we teach our youths the science of coding, we must make sure we give the the right code of conduct.
"The technology that gave us the computer, is the same knowledge that gave us the atomic bomb. Let us build the right mindsets for our skillsets to be of benefit and not harm to our societies."
Sabally also advised the students to spend more of their time in study and introspection, "What You the youths need to do is to be a bit more quiet; read extensively and intensively; search for meaning and learn to be authentic in what you think, do and say; this is what will move your lives forward and the country upwards."
Read Other Articles In Article (Archive)