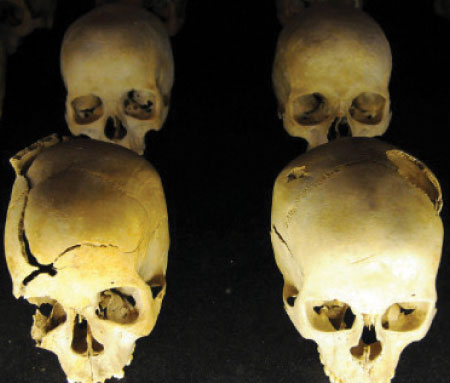 Rwandan former minister Augustin Ngirabatware was sentenced to 35 years in jail by the U.N. war crimes tribunal on Thursday for incitement and involvement in the country's 1994 genocide.
The International Criminal Tribunal for Rwanda (ICTR), based in the northern Tanzanian city of Arusha, said the former Rwandan minister of planning instigated, planned, aided and abetted attacks on and killings of Tutsis during the genocide.
Ethnic Hutu militia and soldiers butchered 800,000 minority Tutsis and politically moderate Hutus in the tiny east African country in just 100 days, between April and June 1994.
The former Rwandan politician, 55, was arrested in Germany in September 2007. Before taking up his cabinet post, Ngirabatware had been a university lecturer.
Ngirabatware is also a son-in-law to Felicien Kabuga, Rwanda's most-wanted man, court documents showed.
The United States has put a $5 million bounty on Kabuga's head, under the "Rewards for Justice" program to bring to justice those most responsible for the 1994 genocide in Rwanda.
Ngirabatware was also found guilty of distributing weapons at checkpoints, the court said.
"The trial chamber convicted Ngirabatware of genocide, direct and public incitement to commit genocide and rape as a crime against humanity," ICTR said in a statement.
"At least some of these weapons were used by the Interahamwe militia to kill Tutsis ... the trial chamber found that Ngirabatware directly and publicly incited the killing of Tutsis at the Cyanika-Gisa roadblock in February 1994," said the ICTR.
As minister for planning in Rwanda, Ngirabatware ran a ministry that controlled significant funds and negotiated loan deals with global development agencies such as the World Bank, court documents at the time he was indicted showed.
The court also found Ngirabatware guilty of participating in a joint criminal enterprise, whose members shared the common purpose of destroying, in whole or in part, the Tutsi ethnic group, and exterminating the Tutsi civilian population in the Nyamyumba commune.
The court announced that after the case against Ngirabatware, it had no more suspects on trial, though there are still nine more accused persons still at large.
The ICTR spokesman Danford Mpumilwa said this was the last case at trial level, and the court is now hearing only appeals.
It was established by the U.N. Security Council to prosecute suspects accused of genocide and serious violations of international humanitarian law in Rwanda in 1994.
Read Other Articles In Article (Archive)