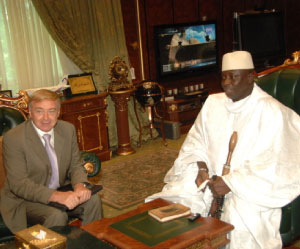 The Ambassador of the Russian Federation to The Gambia Monday afternoon held talks with President Yahya Jammeh, when he called on him at State House in Banjul.
Valery Nesterushkin, based in Dakar, Senegal, told waiting reporters shortly after a closed-door meeting with the Gambian leader that he discussed with President Jammeh the relationship between Banjul and Moscow dating back to the Soviet Union.
"During the recent years, the contact between Banjul and Moscow was not so active, but the potential is there and that is why I discussed with President Jammeh the present situation and future of bilateral cooperation between the two countries," ambassador Nesterushkin told journalists.
According to him, lots of fields can be beneficial to both countries such as the tourism industry.
Ambassador Nesterushkin also told journalists that he discussed with President jammeh ways of increasing the number of Russian tourists visiting The Gambia.
"We also discussed how to restore the practice of sending Gambians to study in the Russian Federation and other matters of common interest," he added
Describing President Jammeh as a dynamic leader, Ambassador said the Gambian leader told him of interesting stories about previous contacts between Russia and The Gambia.
Read Other Articles In Article (Archive)