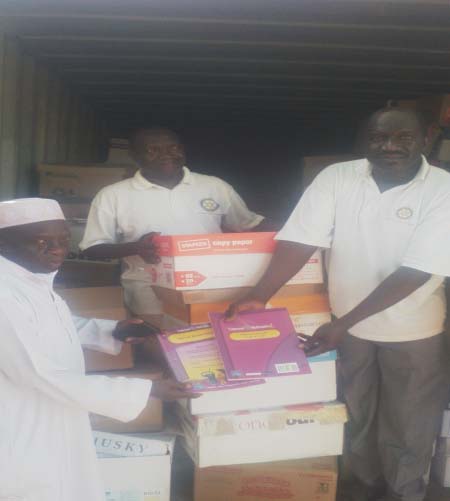 The Rotary Club of Banjul on Sunday donated 15,000 books to basic cycle and senior secondary schools in Upper River Region (URR) at a presentation ceremony held the club's science lab in Kanifing.

The books were donated by Rotary International in collaboration with its Gambian counterpart, Rotary Club of Banjul.
Speaking on the occasion, assistance General Governor to District 9101, Safiyoung Manneh, said Rotarians are people united world wide to provide humanitarian services, encourage high ethical standard business and profession, and contribute in maintaining peace around the world.
He said the presentation of the books is an annual event of the rotary club. Last year, they signed a contract with Rotary International in collaboration with a club in America.
As part of the contract, every year, the Rotary Club of Banjul will receive 45,000 books from America which will be distributed among various schools in The Gambia.
"This is the second year and we are expecting another one in 2017," Mr Manneh said. "Our plan for next year is to include mobility to the people who need it to enable them move around freely."
Receiving the books on behalf of the beneficiary schools, Omar Sonko expressed gratitude to the Rotary Club of Banjul for the gesture, saying the gift is a big boost to the students of URR.
He said the books will go a long way in enhancing teaching and learning at the recipient schools especially in areas like science and mathematics.
He assured the donors that books will be distributed accordingly.
President of the Rotary Club of Banjul Abdoulie Cham said rotary is about giving a hand to the needy; it is a club where people come together to put heads and hearts together to support the underprivileged.
He said as part of their 2017 plans, they want to complete their diabetic foot care project, and build public toilets in certain schools, especially unprivileged schools.
Read Other Articles In Article (Archive)