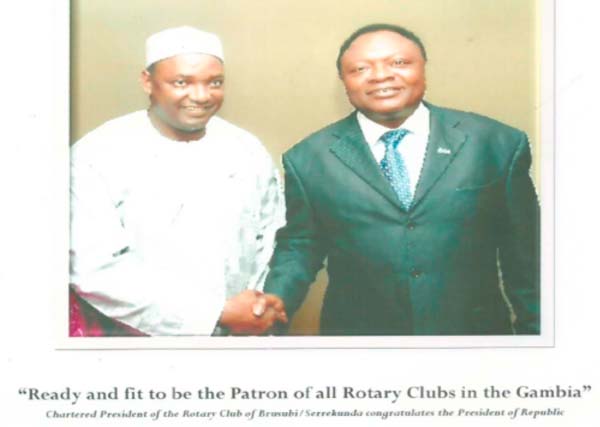 The Chartered President of the Rotary Club of Brusubi - Serekunda Tuesday met President Adama Barrow at his office to congratulate him.

Speaking after the visit, the Chartered President of Rotary Club of Brusubi-Serekunda, Dr Sapard Vincent de Paul Kalala, said the visit undertaken to commend the president and his coalition team on behalf of his Club's Rotarians on the December 1, 2016 Presidential election victory.
He said the result was a clear indication that the Gambian people have spoken and decided to choose who should lead them and be their president through freedom, democracy and peace.
Dr Kalala stated that it was part of his mission to inform President Barrow that Rotarians in The Gambia are all behind his leadership and the new government as they implementing their development agenda.
"We are ready to give you all the support that you need from us as Rotarians operating in this country," he said.
Dr Kalala said they are "delighted to work with President Barrow, who is a young man of peace and freedom".
He salutes President Barrow and his coalition for their team work and cooperation while urging them to work closely with their sister country Senegal.
"We are behind you in implementing our Rotarian projects," he said, adding: "President Adama Barrow is qualified automatically to be in action of all Rotary Clubs in The Gambia."
He further expressed total appreciation to work with President Barrow in improving all their projects in the country.
Dr Kalala thanked President Barrow for according him the opportunity to meet him and share his words of wisdom with him on behalf of his colleagues.
He believed that the president and his coalition team would make the best of the country to see freedom, democracy, and peace prevail on the land.
He also urged Gambians to give him all the support in his drive to implement his development agenda.
Read Other Articles In Article (Archive)