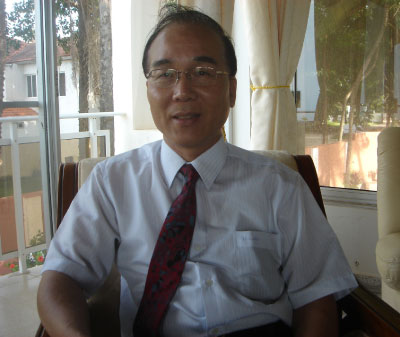 The Ambassador of the Republic of China on Taiwan on Wednesday presented, on behalf of his government cheques amounting to over $600,000 to The Gambia government.
The first cheque, valued at US$500,000 was meant for the sponsorship of the first half payment of the annual US$1,000,000 for provision of "Budgetary Support for Education to The Gambia."
According to a media dispatch issued by the Taiwanese embassy, the financial support would be used by The Gambia government to hire experts in higher education and management, so as to increase the capacity of its higher education institutions.
It would also be used to develop the needed experts in special fields and tertiary education, so as to better serve its national interests.
The Taiwanese Ambassador H.E. Samuel Chen handed over the cheques to Noah Touray, Secretary to the Cabinet, who received it on behalf of The Gambia government, at State House in Banjul.
Speaking at the handing over ceremony, Ambassador Chen said he was pleased to make the presentation on behalf of his government.
"I felt honoured to be part of contribution to be able to promote the welfare of the Gambian people," he stated and then thanked the Gambian government for their support to the cause of Taiwan.
For his part, Noah Touray, Cabinet Secretary applauded the ROC government for the warm friendship. He said "The Gambia can use the educational assistance to employ the needed academics and experts to enhance its educational development and to better serve its own people."
Meanwhile, Ambassador Chen also handed over the sponsorship of three other development projects, which included a cheque for US$31,290 for the provision of air-tickets to ICDF Gambian Masters' 10 students in Taipei to travel back to The Gambia for their thesis research.
While a cheque amounting to US$62,653 was dished out for the renovation of the EFSTH (formally RVTH), another one amounting to US$25,620, was earmarked for the funding of 10 Gambian staff of the Ministry of Health to participate in the Council Meeting of the West African College of Nursing in Liberia.
Read Other Articles In Article (Archive)