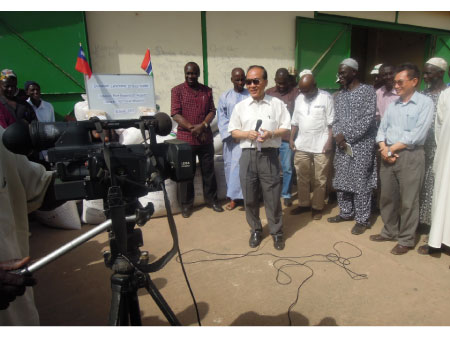 The embassy of the republic of China on Taiwan (ROC) recently inaugurated its newly set-up "ICT Training Center" at Taiwan Technical Mission (TTM) in Sapu.
According to the embassy, the new centre aims at strengthening the Gambian farmers' information technology skills and level of access to data of modern agricultural knowledge.
The inauguration of the new ICT training centre was made at the headquarters of Taiwan Technical Mission (TTM) in Sapu on June 8.
Speaking on the occasion, the Minister of Agriculture Solomon Owens, noted that 10 sets of computers equipped with internet will facilitate the farmers' work efficiency with wide range of knowledge.
He also urged the farmers and the officers to make good use of the facilities to improve their work and living.  
Ambassador Chen underscored that in the fast-changing world, everyone should catch up with the modern science and technology trend.
Taiwan is truthfully helping The Gambia in "capacity building".
Taiwan not only gives "fish", but also teaches how to catch fish, even provides some fishing gears for The Gambia..
Gangi Touray, Governor of Central River Region (CRR), said that CRR is an important region of agriculture production in the country. He appreciates Taiwan's efforts at helping the Gambian farmers in building their capacity.
Read Other Articles In Article (Archive)