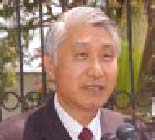 The Government of the Republic of China on Taiwan (ROC), through its embassy in Banjul, Monday donated a handsome amount of money valued at US$50,000, equivalent to D1.5 million, to support disaster victims in the country.
The Taiwanese ambassador to The Gambia, H.E. Richard Shih, presented the cheque for the money to the Vice-President of The Gambia and chairperson of the National Disaster Governing Council, Dr Isatou Njie-Saidy, at her office in Banjul.
The money is meant to support ongoing disaster relief and rehabilitation efforts spearheaded by the National Disaster Management Agency (NDMA).
This donation has come on the heels of the recent pronouncement by the Gambia government who described the recent rain floods in the country a "national disaster".
While presenting the cheque, Ambassador Shih said he was highly touched by the ordeal of disaster victims in the country, adding that the ROC government and people share their pains and sufferings. 
He recalled that in August 2009, the people of Taiwan also suffered from a hurricane disaster, during which the Gambian leader, President Yahya Jammeh, also made a "handsome donation" to the victims.
He said though "small", the donation was to show their concern for those who suffered in the floods and to replicate the "great heart" of the Gambian leader.
For his part, Pa Ousman Jarju, Director of Water Resources, said he was not surprised "Taiwan is coming with such support at this very crucial time".
He added: "Taiwan has been a friend and brother to the people of The Gambia and you have been supporting the people of The Gambia in many areas, like education, health and agriculture. So we know you will support The Gambia at this very crucial time."
Mr Jarju said the donated money will go a long way in alleviating the suffering of the affected communities, adding that "the money will be used for its intended purpose".
In receiving the cheque, Vice-President Isatou Njie-Saidy thanked the Government of Taiwan for their incessant generosity to the people and Government of The Gambia.
The vice president said that after  the government declared a national disaster, President Jammeh demonstrated his leadership quality by visiting the affected sites and later committed D10 million on behalf of the government to assist the victims.
"A friend in need is a friend indeed," she said while describing Taiwan as a "true and genuine" friend of The Gambia.
She also assured Ambassador Shih of the country's support for Taiwan at the international arena, as it has always been doing.
"We will always stand by you at all costs, particularly at the international level, to ensure justice and fairness takes it course," VP Njie Saidy reiterated.
Read Other Articles In Article (Archive)