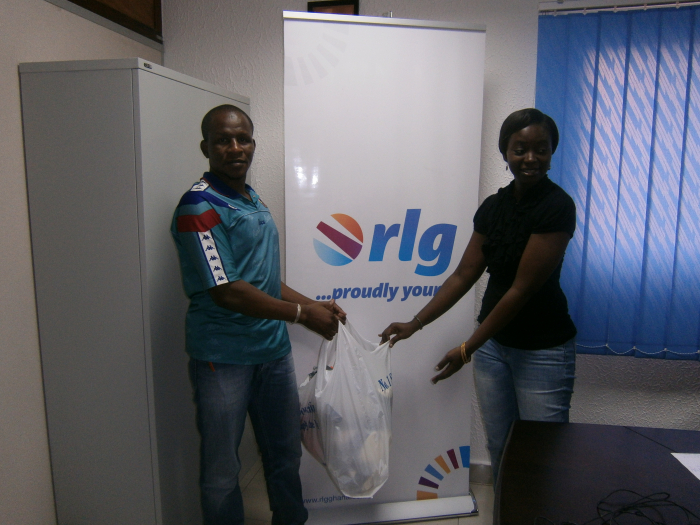 Rlg Gambia Limited on 24 August 2013 signed a one-year contract deal to sponsor three winning football teams.
The rlg sponsorship package covers former Kong Bi FC of Serrekunda West now called RLG FC, Man City FC of Banjul and Medina FC of Serrekunda East.
The contract deal, expected to last for a year, was signed at the rlg Company's main office on Kairabe Avenue and witnessed by the various club presidents and fans.
The sponsorship includes the presentation of five footballs, a set of jersey and t-shirts among other equipment to each of the teams. 
In his remarks, the Sales and Marketing Officer of rlg, Sheikh Omar Betaye, says rlg believes that supporting the youth in sport will enable them to be more competitive and play with a steady mind knowing that they are associated with a sound brand to reach the highest level of sportsmanship.
The sponsorship deal is aimed at supporting young people in sport to showcase their talents in football, he said, calling for fair play to prevail in the game.
In the just begun partnership, Betaye hopes for a fruitful collaboration and discourages violence in all forms.
This is the beginning of numerous corporate social responsibility schemes they want to embark upon which includes internship programmes for students and arts and culture.
In describing his company's functions, Mr Betaye says rlg, launched in June this year, is the first mobile handset and electronic device assembling plant in The Gambia.
Besides its assembling of communication equipment which also includes tablets, laptops and LCD TV monitors, it is also engaged in capacity building and training programmes such as mobile phone repair training programme aimed at empowering the youth through ICT training.
The president of Man City FC, Dawda Jangum, thanked rlg management for been the first company to come to their aid.
Man City, he noted, had captured four trophies in three years without outside help.
"I hope with the collaboration with rlg, we look forward to achieving many other trophies in the future," he said.
Medina FC president Alhagie Nyassi promised a violence-free game, while RLG FC Public Relations Officer Sheriffo Jarju said the company's activities through various social networks and its quality products and service will spread its name far and wide and boost its business.
Aisatou Diallo of rlg also spoke on the occasion.
Read Other Articles In Article (Archive)