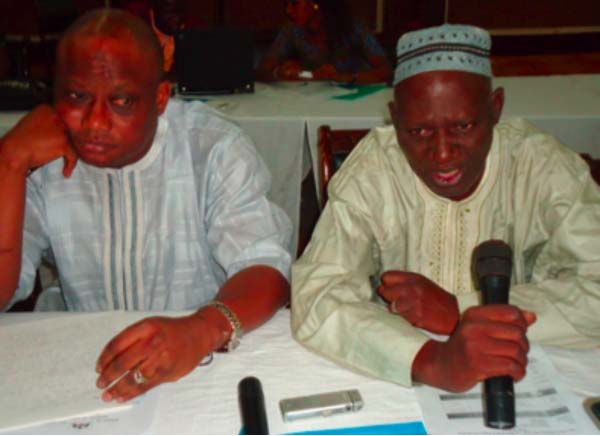 In a bid to assess their performance, achievements and challenges, stakeholders including representatives from the Central Bank and the Ministry of Finance, as well as IFAD representatives among other agricultural project managers Friday converged at the Paradise Suites Hotel to validate the Rural Finance Project and PIWAMP Completion draft report and Impact and Evaluation.
The officials disclosed that Rural Finance Project is a co-funded project of the Gambia government and International Fund for Agricultural Development (IFAD) to the tune of US$8.596 million.
The overall goal of the project is to create and strengthen an enabling microfinance environment for poverty reduction.
The specific objectives are to foster self-sustaining microfinance institutions such as VISACAs and NBFIs, and forge partnerships with other projects including those with grand resources for socio-economic and infrastructural development.
The validation, funded by the GCAV, looked into the report and came up with constructive criticisms, suggestions, and recommendations to carve the way forward on the Rural Finance Project Completion report survey.
Presiding over the opening ceremony, the deputy permanent secretary at the Ministry of Agriculture, Hassan Jallow, said the exercise was the second documents that had been validated under the project completion report analysis and impact assessment.
DPS Jallow added that the importance attached to finance, especially microfinance, in the development of agriculture could not be over-emphasized.
He challenged the participants to critically look at the document and make good and key recommendations for the way forward.
The project coordinator, Gambia Agricultural Commercial and Value Management Chain (GCAV) who doubles as the Project Coordinator for Central Project Coordinating Unit (CPCU), Falalo Touray, described the forum as very important as it would help to let people know the impact, progress, achievements and challenges of the project to map out an appropriate way forward.
He thanked Rural Finance for organizing the forum and challenged participants to make good use of it.
Moses Abubacarr, IFAD programme manager, emphasised the importance of the forum, saying it is a requirement for each development project once the project has come to an end.
He said the Rural Finance Project, which has been operating since 2008, is now at the final phase. According to the IFAD programme manager, they had been working on various projects to ensure they expand the requirement for "this important edition".
The forum was very important for the people to know the importance, impact, progress and performance of the project over the years.
Read Other Articles In Article (Archive)