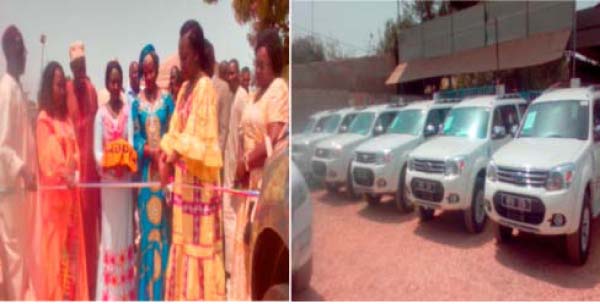 Riders for Health (RFH) yesterday boosted the Ministry of Health and Social Welfare in Banjul with nine new vehicles, geared toward strengthening the healthcare delivery services, particularly in the area of child and maternal health.

The handing over ceremony was done at the RFH headquarters in Kanifing North, attended by the DPS women's affairs, the ministers of Health and of Basic and Secondary Education, and other top government officials.
Speaking at the handing over ceremony, deputy permanent secretary Bintou Gassama, representing the minister of Women's Affairs overseeing the Vice President's office, said health and the well-being of Gambians are among the top priorities of President Adama Barrow's new development agenda.
The government intends to invest in programmes that support healthcare services, to be regularly delivered to all communities in The Gambia in line with the principles of Primary Health Care (PHC).
The availability of reliable means of transport is an important component of any health system, for extending health services coverage to local communities, she added.
"I am informed that since the outsourcing of transport management to Riders for Health in January 2002, they have been offering reliable services to the Ministry of Health and Social Welfare," she continued.
Under the Transport Assets Management (TAM) agreement, ambulances, trekking and supervision of vehicles and motorcycles deployed since 2009, now deemed to be uneconomical to manage, are being replaced as part of the agreement.
In July 2016, a total of 17 ambulances and 66 motorcycles were replaced, she said.
Ensuring a dependable transport fleet will contribute significantly to meeting the United Nations Sustainable Development Goal (SDG) 3, which is about ensuring healthy lives and promoting well-being for all at all ages.
"As directors, I am with the conviction that putting such vital assets at your disposal will ease your work tremendously. I, therefore, call upon the directors who are going to receive these vehicles to judiciously utilize these scare resources in the execution of your functions. It is my ardent hope that you will cooperate with Riders for Health for the timely servicing and maintenance of the vehicles," she added.
Delivering her statement, Saffie Lowe-Ceesay, Minister of Health and Social Welfare, said under the partnership between her ministry and Riders for Health, it is a requirement for RFH to replace vehicles once they outlived their useful lives.
She said in line with this agreement, nine new vehicles have been procured to replace the existing vehicles used by senior members of his ministry.
She added that the handing over of the transport came at a time when the ministry is grappling with serious transport constraints at the central level.
Therese Drammeh, Riders for Health Country Director, speaking on the occasion, said they are giving vehicles to the directors of the Health ministry because they need trekking and have supervisory functions, and they need proper transport to do their work.
"We have been giving those priority simply because if they talk about healthy Gambians, they are talking about proper delivery and people directing the work, and that is where the issue of motor bicycles and ambulances come in, and we gave priority to that."
She added that in 2009, they brought about 35 ambulances, 27 vehicles for trekking and supervising and about 90 motorcycles.
In 2014, they again brought 9 ambulances, 27 trekking supervisory vehicles and 60 motorcycles; and in July 2015 they started replacing the transportation fleet, and replaced 17 ambulances and 66 motorcycles.
They are replacing 9 vehicles and they would have replaced 35 motorcycles, but because of the political impasse that delayed everything, she said.
As far as they are concerned, there is sufficient transport for health to do their work, and that they have sufficient transport in the pipeline that are coming, she continued.
Others speakers were Alhajie Nyangado, chairman board of directors RFH, who advised the users of the vehicles to use them for the purpose they are meant for, rather than using them for personal use, which according to him is a privilege.
Read Other Articles In Article (Archive)