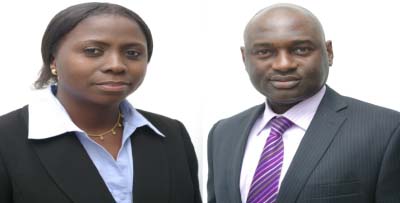 In furtherance of its efforts to position itself as the Bank of choice in The Gambia, Guaranty Trust Bank (Gambia) Ltd has announced the appointment of Ms. Isatou Jawara and Mr. Bolaji Ayodele as Executive Directors at a recent board meeting.
These appointments which have also been approved by Central Bank of The Gambia, are meant to further enhance the capacity of the Board to deliver on the bank's corporate goals, as the new Board members are seasoned professionals with diverse experiences.
Ms. Isatou Jawara joined GTBank in 2003 and has worked in the areas of Retail Bank, Commercial Bank and Corporate Bank Groups. She holds a B.Sc (honors) in Management from the University of Hull, UK (2000) and an MBA from the University of Leicester, UK (2002).
She has an extensive experience in credit analysis and packaging. She co-ordinated the first and second loan syndications in The Gambian banking industry.  Ms. Jawara is currently the Divisional Head of Corporate Bank Group.
Mr. Bolaji Ayodele joined Guaranty Trust Bank Plc in 1994, after a brief stint with Chartered Bank Ltd Nigeria where he served in the Foreign Operations Department in 1993. Prior to his deployment to The Gambia in 2005 as General Manager, Mr. Ayodele was the Zonal Co-ordinator for Operations, Northern Nigeria, where all the GTBank's branches in the Northern part of Nigeria were under his purview.
Mr. Ayodele holds a B.Sc in Biochemistry from the University of Lagos, Nigeria (1991), a Post Graduate Diploma (PGD) in Business Administration from Enugu State University of Science & Technology (1999) and an MBA in Business Administration from Enugu State University of Science & Technology (2002). He has also attended several management courses at some of the world's leading business schools. Bolaji is currently the Divisional Head for Operations, Technology and Treasury Units.
Commenting on the appointments, the Managing Director of Guaranty Trust Bank (Gambia) Ltd, Mr. Femi Omotoso said 'the appointment of the two Executive Directors confirms that we are truly a Gambian bank and it will provide an opportunity to further engender a rejuvenation and enhance the capacity of the Executive Management and Board, by deepening specialisation and strengthening the corporate governance culture'. Guaranty Trust Bank Gambia Ltd. has instituted new structures and introduced several innovations over the last 4 months under the new leadership of Femi Omotoso.
GTBank Gambia was established in 2002 and has within the years come to be recognised as one of the most innovative and service focused banks in The Gambian financial market space. The Bank operates from 15 branches in the country. All branches are connected On-Line-Real-Time Banking, which means customers of GTBank can access their accounts or do transactions from any of GTBank's 15 locations regardless of where the account has been opened.
Guaranty Trust Bank (Gambia) is the first and only 'Gambian bank Principal' member of Visa International and approved Visa Merchant Acquirer. It is the only commercial bank in The Gambia that is issuing Visa Card in Gambian Dalasi and its 7 ATM machines accept visa card for cash disbursement. The bank has also deployed Visa Enabled- Point Of Sale Terminals in all major Hotels and Restaurants in The Gambia.
The bank offers a wide array of products and services such as Internet banking, GTSave, Smart Kid Save (designed for Children), GTB Bankers' Acceptance (GTB BA) and Slip-free banking.  GTBank is a Direct Agent of Western Union and provides the platform for its customers as well as non-customers to send or receive money through its wide branch network to and from any part of the world. There is also "GTB Joni Joni Cash" which is a local money transfer service that enables customers and non-customers to send or receive money at GTBank branches instantly in The Gambia.
Read Other Articles In Article (Archive)