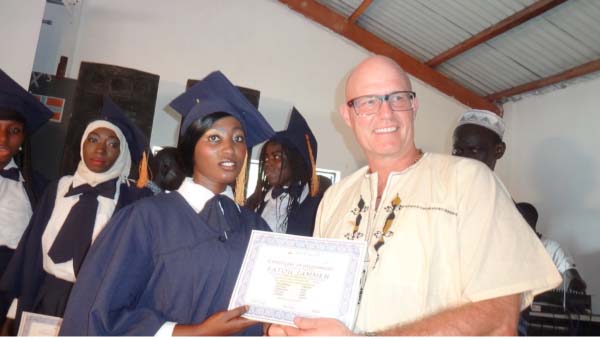 The management and staff of Rex Nursery and Skills Training Centre in collaboration with the Norwegian sponsors of the centre at the weekend commemorated the 30th anniversary of the institute in Fajikunda.
The celebration also marked the graduation of a batch of ten students from the training centre which is fully sponsored by Venner Av Life, Norwegian philanthropist.
The anniversary and graduation ceremony was enlivened by scout band and presentation of poems by students.
Speaking on the occasion, Amat Nyang, headmaster of Rex Nursery and Skills Training Centre, said the community of Fajikunda and surrounding are among the major beneficiaries of the 30 years of philanthropic service by Venner Av Life in The Gambia.
The centre has staff strength of 27 who are taking care of 375 children enrolled at the school.
Children attending the nursery school are provided free education, free uniforms, learning materials, and are also given daily meal and medical care at the school.
Similarly, youth attending the skill training centre are given free skills training to prepare them for self-employment.
Mr Nyang further commended the Norwegian sponsors for building a hall at the centre which can also be used by the community.
He noted that thousands of children have passed through the centre since it was founded in 1986.
"Most of them are today contributing immensely to the socio-economic development of The Gambia," he said.
Lamin FB Jaiteh, senior education officer from the Regional Education Directorate, Region 1, said the anniversary is worth celebrating as it signifies a long standing and fruitful relationship between the sponsors and the community of Fajikunda.
He noted that the learning centre has immensely benefited the people of Fajikunda and by extension the nation at large.
Mr Jaiteh said the provision of quality basic education to the citizenry has always been the key priority of The Gambia government since the advent of 22 July revolution 1994.
He said robust and responsive education policies have been formulated by the Ministry of Basic and Secondary Education (MoBSE) to ensure quality education delivery.
Mr Jaiteh called on both partners to continue the fruitful relationship towards the growth and development of The Gambia.
Fatou Touray, senior education officer at MoBSE who is also the chairperson of the school board, said the board has been working hard and were constantly in communication for all the many changes that happened in the two consecutive academic years.
The board had also been in contact with the sponsors and partners of the school on issues and decisions concerning teaching and learning, she said.
The 30th anniversary of the learning centre also witnessed the coming of new board of management and retiring of some staff.
Read Other Articles In Article (Archive)