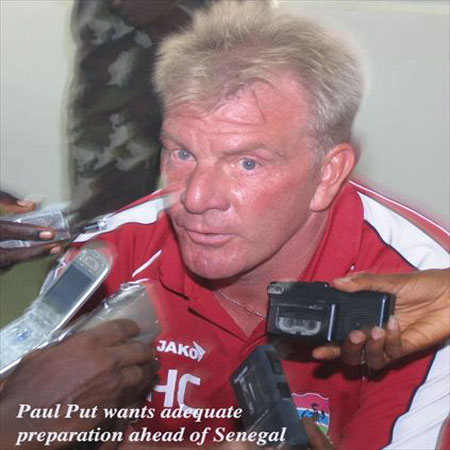 Despite not playing any friendly within the period, The Gambia maintains position as in last month's ranking by sitting 22nd and 93rd in Africa and the world, respectively in the latest FIFA rankings on Wednesday.
Coach Paul Put and his men who are set to take on Mexico in Germany on Sunday in an international friendly are expected to make a better performance in the Fifa monthly ratings, which is done based on the performance of one's country, especially in friendly matches.
South Africa, World Cup hosts made gains in Fifa ranking after climbing up seven places.
Bafana Bafana moved up seven places from 90th place to 83rd in the world.
However, Bafana Bafana still remains the lowest ranked World Cup host ever, since the Fifa rankings began.
African champions Egypt, who failed to qualify for the World Cup, remain the highest placed African team, moving up one place to 12.
Cameroon stays in 19th place, and are Africa's second highest placed team in the rankings.
Nigeria have dropped from 20th place to 21st, while Ivory Coast stay in 27th position.
The next African team on the list is Algeria, who moved up one place to 30th and Ghana, who continue to occupy the 32nd position.
One of the World Cup favourites, Brazil, continues to occupy the top spot in the world ranking ahead of Spain and Portugal.
There were no changes in the top five with Brazil followed by Spain, Portugal, Netherlands and Italy. South Africa moved from 90th to 83rd after wins over Jamaica and Thailand.
The top ten includes one team, Croatia, who did not qualify for the World Cup. The lowest-ranked of the 32 World Cup finalists are North Korea, who climbed one place to 105th.
Top ten in Africa: 1. Egypt (12th worldwide) , 2. Cameroon (19th worldwide) , 3. Nigeria (21st worldwide), 4. Ivory Coast (27th worldwide), 5. Algeria (30th worldwide) , 6. Ghana (32nd worldwide) , 7. Gabon (42nd worldwide) , 8. Burkina Faso (48th worldwide) , 9. Mali (54th worldwide) and 10. Tunisia (55th worldwide)
Read Other Articles In Article (Archive)