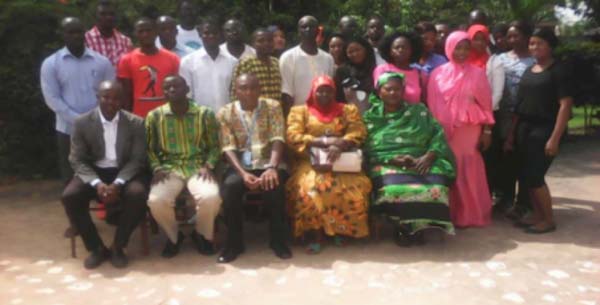 The National Youth Council (NYC), in partnership with youth organisations in the fight against Female Genital Mutilation and Cutting (FGM/C), Thursday validated the findings, report and Feedback on the bottleneck of FGM law implementation assessment in The Gambia.
Think Young Women, The Girls' Agenda, Young People in the Media and He4She Network, as well as Safe Hands For Girls are part of the organisations that took part in the finding, funded by UNICEF.
The final document is expected to be shared with other partners and authorities in the country.
However, in 2015 a law was passed banning FGM in The Gambia, but despite the legislation people have continued to practise it clandestinely.
From 2015 to date, only a case has been reported and taken to court and yet the practice continues in secret.
Recently, it has been observed that some communities have started openly celebrating the practice as it was done before the legislation was passed against it.
Alagie Jarju, programme manager of the National Youth Council (NYC), said despite the enactment of the law on FGM/C people are still clandestinely practising it.
"The activity is still happening and we have not seen people being taken to book for doing it, this is why UNICEF came and join force with NYC and partners to come up with findings on the bottleneck of implementing the law," he said.
Ousman Sonko, a consultant, said it was a process led-activity and the first part was done, and the last part was to invite the larger group to look at what has been put together to enrich it.
He added: "We have a responsibility to be very fair to the people we are representing and the only way that can happen is to look at the document critically and contribute in enriching it."
Eustace Cassell, Child Protection Specialist at UNICEF, said UNICEF under the 2017 -2021 programmes includes issue of FGM/C under Child Protection components.
He said that since the law was enacted a lot of changes had happened, adding that communities where FGM/C still happens are still not yet convinced and are still practising FGM/C.
According to him, the prevalence of FGM/C is still "high going over 70 per cent". This was why they thought it wise to make findings to know why the prevalence is still high, and why people are not adhering to the law.
He said as youth they have the responsibility of safeguarding and protecting the children, because they are the future leaders.
"We need to take this report to the authorities, communities and to all stakeholders for them to know what is happening, including the law enforcement agency to see what will be done to enforce the law on FGM/C," he stated.
Read Other Articles In Article (Archive)