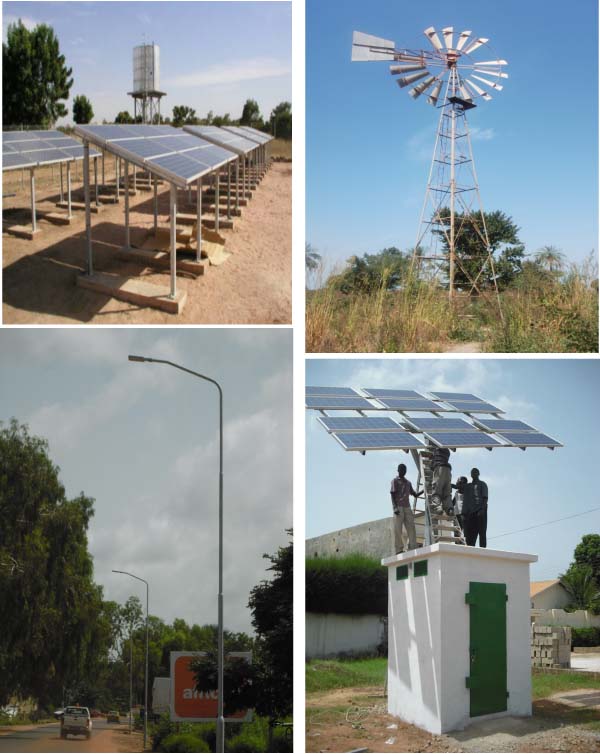 Hello and warm welcome to yet another edition of the environment, your weekly column that brings environmental issues to the limelight.
In our today's edition we look at the efforts put in place by GEF-UNIDO project management team in collaboration with Ministry of Energy and other relevant stakeholders in their efforts to integrate Renewable Energy into our tertiary institutions both public and private
According to Mr Dodou Gaye, GEF-UNIDO project manager, Gambia had limited expertise in Renewable Energy (RE) thus the need to build its RE capacity had also been accepted and mapped out to be achieved through the establishment of RE courses in the tertiary institutions both public and private.
The importance of upgrading the knowledge of the regulators for educational and practising entities could not be overemphasised, he said.
This,as a result GEF-UNIDO project entitled "Promoting Renewable Energy Based Mini Grids for Productive Uses in Rural Areas in The Gambia",encapsulates training of trainers to be able to both develop curricula for integration into existing tertiary and secondary schools in The Gambia.
He said that for the sustainability purpose manuals were developed as training tool kits to be used where necessary and utilize some selected demonstration sites during the training of local experts in The Gambia.
The first forum titled "Train-the-Trainers" was carried out in four thematic areas, namely solar PV, Wind Energy, Solar Thermal and Renewable Energy Training Softwares (HOMER) resulting from the training needs assessment which had been carried out in the past led by four experts from Ghana Energy Centre with requisite track record and experience in executing similar activities in other countries, he added.
There were field visits to some existing renewable energy projects in The Gambia using technologies such as Solar PV, Solar thermal and Wind technology, he stated.
He said the visits to key demonstration sites notably Fandema/Mbolo Women's Association was very helpful in the illustration of various separate units and their functional integration in using renewable energy to meet daily needs of life.
Twenty-five selected local experts from academic-higher formal and informal educational institutions, regulatory and end-users participated in the programme, he stated.
In a PowerPoint presentation, Mr Sompo Ceesay, PURA's deputy director of electricity, who doubles as local coordinator for the training of trainers, gave an overview of Renewable Energy in The Gambia highlighting its historical perspective, Renewable Energy master plan, legal and regulatory framework, recent project intervention areas and challenges.
According to Mr Ceesay, between 1980 and the 2000s, Renewable Energy solar was used mostly for water pumping for rural dwellers, although solar PV was very expensive ($7/W) as well as bulky, thus integrate wind water pumping for irrigation.
In 2005 -2010, he added, the Energy Policy shifts and Renewable energy became more recognised because rising cost of electricity, with declining cost of solar PV and availability of used turbines.
This has created opportunities to increase trade with China to access to Chinese made solar PV/ water heaters and pave the way for more solar companies registered in The Gambia, he said.
According to him, in 2005, a 14-month study was conducted on wind and solar funded by ADB and 8 sites were chosen across the country, pegging wind measurement for wind at 30m.
However, results show moderate wind speeds (coast) and good solar irradiation.
Mr Ceesay stated that in 2010 to 2014, a good number of projects were implemented by both public and private institutions, in Kombo Beach (Novotel) 2007 and the Grid Connected Renewable Energy, which was a Community Driven Wind Project in 2009.
"One of the key issues about Renewable Energy is skills transfer or Knowhow and we need home-grown skills who would provide not only the skills to handle RE-related issues but also gave advice as to how RE equipment and materials are handled," Mr Ceesay said.
According to him, Global Environment Facility/UNIDO funded Mbolo Women Solar PV- Wind Turbine Hybrid System in 2012, which is 100% RE powered skills centre with off grid system which has a total capacity of 8.3kW, as part of women empowerment through ICT, skills, entrepreneurship, etc.
In the area of Legal and Regulatory Framework, Ceesay said RE Act was enacted in December 2013; with the objective of promoting the use of Renewable Energy resources to achieve greater energy self-reliance and thus reduce exposure to fossil fuels, harmful emissions and most of the entire demand burden currently on NAWEC.
Some of the Key Provisions in Renewable Energy Act 2013 include the establishment of Renewable Energy Fund, general incentives for Renewable Energy facilities, streamlining the permitting process, adequate training for installers of RE equipment and the development of Feed in Tariff Rules (FIT), he said.
The Renewable Energy Facilities-General Incentives among them were the exemption from paying import tax and duty, corporate tax exemption15 years from commissioning, exempted from Value Added Tax and retail tax for 15 years from commissioning date and proceeds from sale of carbon emission credits exempt from sales taxes, he noted.
One of the key issues, he said, was the streamlining and permitting processes which should be done by the Ministry of Energy with other authorities such as Environmental Impact Assessment (EIA), Land and water use, construction permits and the issuance of licences to interested parties.
He said installers must be appropriately trained to install RE equipment with certification and they must provide guarantees to client for proper installation at least six (6) months minimum guaranteed period.
To him, the introduction of FiT systems encourage grid connected systems, standard PPA; thus avoid lengthy negotiations to allow more RE to be part of generation mix.
Some of the future challenges are Large Scale grid connected RE systems from KW to MWs, demand for technicians growing, quality and competent installers.
For your comments, contribution and suggestions please call (00220) 6361340 or Email: asallah6@yahoo.com
Read Other Articles In Article (Archive)