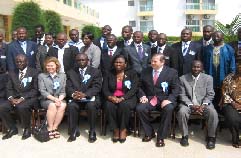 The West African Institute for Financial and Economic Management (WAIFEM), in collaboration with the International Monitory Fund (IMF) yesterday commenced a two-week regional course on government finance statistic, held at the Paradise Suites Hotel in Kololi.
Mr. Momodou Foon, WAIFEM's Director of Micro Economic Management, who stood in for the Director-General of the institute, Prof. Akpan Ekpo, revealed that WAIFEM was established by the Central Banks of The Gambia, Ghana, Liberia, Nigeria and Sierra Leone in 1996, with the principal mandate of strengthening capacities for economic and financial management in these countries.
He lamented that the production of capacities for reliable and timely government finance statistic remains weak in most African countries. "It's against this backdrop that WAIFEM and the IMF Statistic Department are collaborating to organise this course to build local capacity to produce up-to-date government finance statistics" he revealed.
He disclosed that the course was designed to provide an understanding of the Government Finance Statistics Manual (GFSM 2001) framework at both conceptual and practical levels, amongst others.
He urged the participants to take the opportunity of their stay in Banjul to build interpersonal relations and networking, which he noted, would further the course of integration in the sub-region.
For his part, Mr. Basiru Njie, 1st Deputy Governor of the Central Bank of the Gambia hailed both WAIFEM and IMF for the initiative.
Noting that fiscal policy is a major tool for macro-economic stabilization, he said, when used in conjunction with the monetary policy, it can constitute a pillar in the policy mix for macro-economic stabilization.
He revealed that statistic users are many, and that they often use the data for various reasons.
He stressed that all countries must redouble their efforts to meet the timeliness and data quality standards set under the General Data Dissemination System (GDDS).
Mr. Alberto F. Jimenez de Lucio of the IMF Statistic Department and the team leader urged the participants to actively partake in the course to enable them benefit from it.
Read Other Articles In Article (Archive)