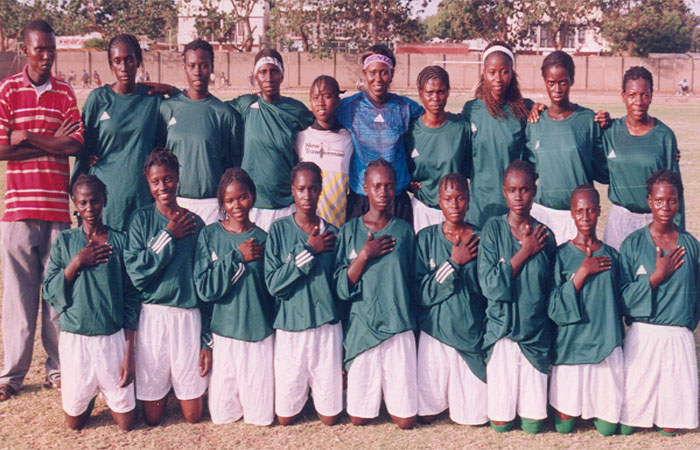 Red Scorpion is one of the first female teams actively taking part in The Gambia Football Association first division league.
The team, known to have produced outstanding players, has always been in the forefront of female football in the country.
Established in April 1988 by Ben Hupper and formerly called Dolphins, the team is set to commemorate its 21st year in existence on the 12th of April 2009 with an international friendly match and a symposium.
According to Chorro Mbenga co- team coach, the need to commemorate the birth of Red Scorpion is as a result of the growing dormancy of female football in the country.
"Despite the fact that we are seeing very young rising talents who will need little coaching to get there, we feel the game is still dormant in the country.  We also want to make parents understand that football is a game for all irrespective of gender," she explained.
The team's 21st anniversary will be commemorated in the form of a Symposium on the importance of female participation in football at the Independence Stadium in Bakau on the 11th of April 2009.
"We intend to invite parents and award them certificates of appreciation for allowing and encouraging their children to play for Red Scorpion," Chorro pointed out.
Coach Mbenga added that, "as part of the celebrations, they have invited Serine FC, a female team from Senegal, for an international friendly match".
The team is expected in Banjul on the 10th of April and will lock horns with the Red Scorpion on the 12th April at the Serrekunda East Mini-stadium. Both sides meet in an international friendly in Senegal in 2002, in which Serine FC defeated the Red Scorpion 2-1.
Red Scorpion, then called Dolphins, was the first female football team to be formed in Bakau in the late 80's and team used to play exhibition matches as a sensitization mechanism on women's football.
According to Chorro, "The team was operating with the help of OB Conateh and we used to divide the team in two and take part in the opening of Nawettan matches in the Kombos and also take part in the Gamtel telecom day by playing with female staff from Gamtel before the coming off the GFA female league"
She added that, other teams came up later with the likes of Senegambia borders, Watford and Company Ten among others. The first tournament organised by SenegambiaBeach hotel was staged at the Manjai field.
"From there with the efforts of people concerned with the development of female football like Sainey Jammeh, Des Samba Mbenga and Millow Savage, the Gambia Football Association Female league came into being.
Red Scorpion have won the national female league twice and since its inception, the team have passed through Ben Hupper, founder, Jai Faye, oldest player in the team, Des Samba Mbenga and lately,  Chorro Mbenga and Fred David as team coaches. Last year, the team finished within the first three in the GFA league.
Read Other Articles In Article (Archive)