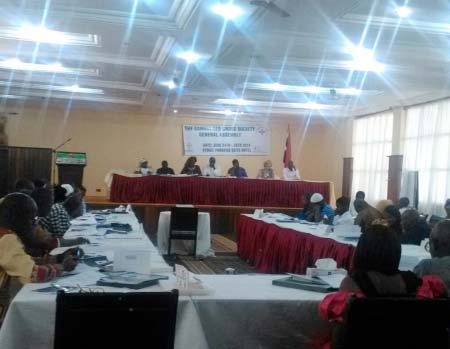 (Issue Monday June 27, 2016)
Officials of Gambia Red Cross Society (GRCS) on Saturday held their general assembly at a local hotel in Kololi to elect a new national executive.
The event was attended by delegates from International Federation of Red Cross and Red Crescent (IFRC), International Committee of Red Cross (ICRC) as well as GRCS officials, volunteers and partners.
Dr Muhamadou Kabir Cham was elected unopposed as the new president while the former minister of Forestry, Jato Sillah, was voted in as vice president against Fabakary Kalleh of Peace Ambassadors. Njogu Jeng was voted in as the national youth chairperson and Suwaibou Keita, national treasurer.
Speaking on the occasion, Anne Elizabeth Leclerc, IFRC head of Sahel Cluster, said IFRC, just like the ICRC, has been playing active role in supporting the long process of preparing for the general assembly.
"It has been challenging, and a long one for that matter, but it has also been very interesting and hopefully a very instructive process for all of us. We need to congratulate you, your national society, and as well take the opportunity to celebrate with you," she said.
She noted that the GRCS' position as a leading humanitarian organisation in The Gambia "is irrefutable".
"Your capacity to reach into communities is significant so let's continue to be proud and proud in knowing that you have been supporting thousands of vulnerable people through national programmes and innovative projects with partners and you continue to do so," Mrs Elizabeth Leclerc said.
She pointed out that IFRC has been pleased to support the Gambia Red Cross through the change process and in addressing some important issues like legal and financial matters.
"We are very much committed to accompanying you and to continue working together and we hope to do even more again in responding to your needs and priorities," the IFRC official said.
Amadou Diop, head of cooperation at ICRC, said that with the support of ICRC, GRCS had undertaken activities like audit, policy review and the review of GRCS act and statues.
Read Other Articles In Article (Archive)